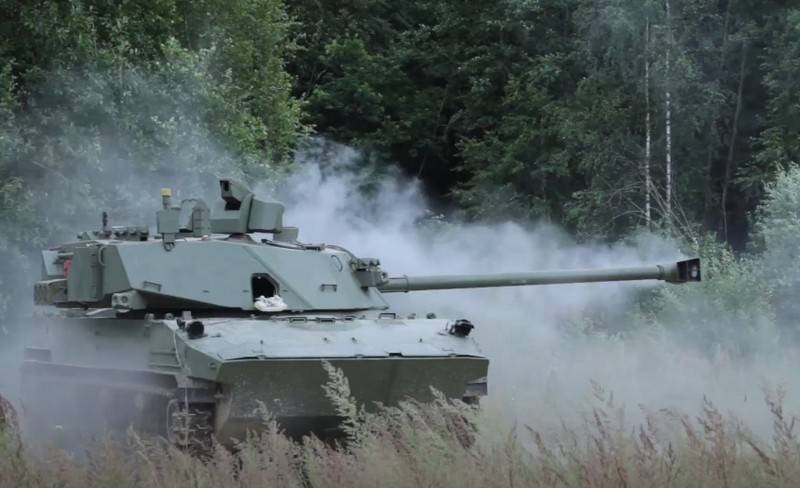 The newest self-propelled artillery gun "Lotos", developed in the interests of the Airborne Forces, has completed acceptance tests and is preparing for the start of the preliminary tests. The press service of Rostec reports.
According to the report, preliminary tests of "Lotus" will begin before the end of this year, the gun has already conducted the first firing. The military representation in TsNIITOCHMASH signed an official document on the compliance of the prototype of the CAO with the working design documentation and readiness for preliminary tests.
It is specified that within the framework of the acceptance test program, which consists of 57 points, "Lotos" covered 400 km and fired 14 shots. This stage made it possible to assess the performance of all units, mechanisms and instruments of the tool.
The airborne amphibious gun "Lotos" showed itself perfectly during the completed acceptance tests. The combat vehicle fully meets the requirements for weight and size characteristics and at the same time has an impressive speed, rate of fire and range of fire. We expect the next stage - preliminary tests - to begin this year
- said the industrial director of the state corporation Bekkhan Ozdoev.
Let us recall that acceptance tests of the Lotos JSC began in the summer of this year, and on August 1, a dynamic display of the Lotus to the public was performed at the Alabino training ground (Moscow Region) as part of the celebrations dedicated to the 90th anniversary of the Airborne Forces (Airborne Forces) ...
The newest airborne floating self-propelled artillery gun "Lotos" was created on the BMD-4M chassis and is intended for the Airborne Forces of the Russian Federation. Mass - 18 tons, speed - up to 70 km / h, power reserve - at least 500 km. Combat crew - 4 man. The rate of fire - 6-8 shots per minute. Firing range - up to 13 km.
CJSC "Lotos" is designed to replace self-propelled 120-mm self-propelled artillery and mortar units 2-9 Nona and its modifications that are in service with the Airborne Forces.