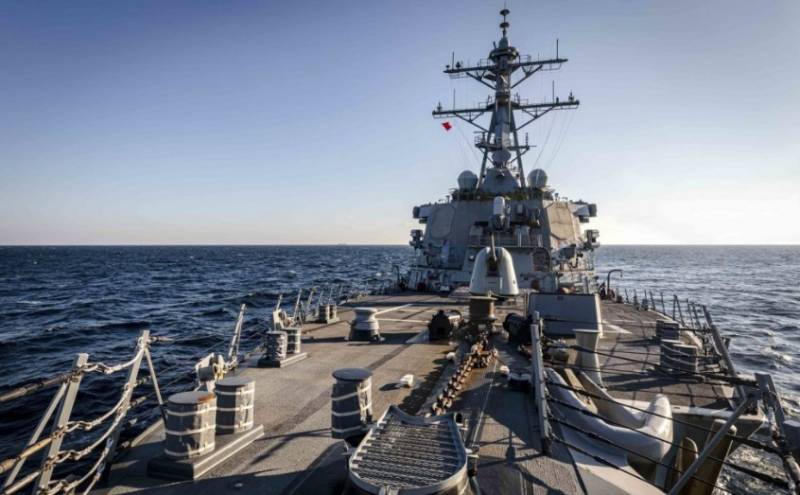 The American destroyer USS John S. McCain allegedly could not be expelled from the waters of the Russian Federation, since she did not go there, but was in international waters all the time. The US Navy ship was stationed in Peter the Great Bay in the Sea of ​​Japan, conducting "Operation to Maintain Freedom of Navigation."
So in the press service of the Seventh
fleet
The US Navy has commented on the incident with USS John McCain, which was reported on Tuesday. But since when shipping in the Peter the Great Gulf suddenly became "not free", the Pentagon does not comment ...
The RF statement is not true. The ship "John McCain" was not "expelled" from any national waters.
- said in a statement.
The United States does not consider the Gulf of Peter the Great to be the sovereign territory of the Russian Federation, therefore, they declare that there was no expulsion. The Seventh Fleet of the US Navy names the position of the Russian Federation, according to the legislation of which the Gulf is
historical
bay, "excessive sea claims". They claim that the Russian Federation is violating the international Convention on the Law of the Sea, since since 1984 the Soviet Union began to claim "more inland waters" than, in the opinion of the United States, it was supposed to, and the Russian Federation continued this policy.
On Tuesday, the US Navy decided in practice to prove that they are allowed to do anything. The same is stated in the message of the press service of the Seventh Fleet, commenting on the incident in the bay:
The United States will fly, sail and operate wherever international law permits - regardless of the location of excessive maritime claims and current events.
Therefore, the destroyer "John McCain" went into the depths of Russian territorial waters for two kilometers, from where it was driven out by the large anti-submarine ship of the Russian Navy "Admiral Vinogradov". The violator was warned that a ramming maneuver could be used against him, after which he left the territory of the Russian Federation.