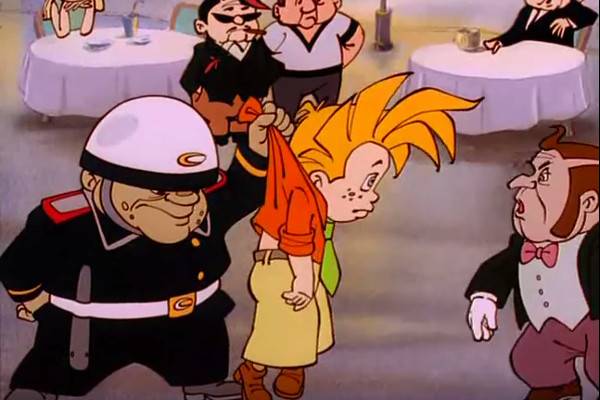 Quote from the movie "Dunno on the Moon". Dir. Yuri Butyrin, Alexander Lyutkevich. 1997. Russia.
Distant kills school
The first months of distance learning (distance learning system) showed that it led to a sharp drop in the level of mass education.
Our school, which has been "democratized", "optimized" (and, in fact, destroyed) since the 1990s, is now barely breathing anyway (
The agony of the Russian school
).
The last Soviet cadres are leaving, promising young people are moving to other areas (mainly commerce, services). Some young teachers leave for large cities, where salaries and opportunities for personal growth are higher. In the countryside and small towns there is a severe shortage of personnel. Teachers are relegated to the role of servants. Up to people who provide a set of commercial services.
Knowledge sale
Western standards, such as the test system, the Unified State Exam, destroyed the basic program that gave pupils and students a classical education, the ability to analyze, think independently and critically. A student of the Soviet school had such a foundation that he could become a mathematician, chemist, historian, and art worker. Nowadays, consumers and "managers" (sellers) are produced. Education is being transferred to a commercial track. To enter a good educational institution, you need additional paid lessons, tutors.
Distance struck a powerful new blow to the school.
First, teachers, often elderly, cannot readily adapt to the new system. On the other hand, in rural areas, schools, teachers and parents do not have the opportunity to organize high-quality distance education. Digital learning does not give the student normal knowledge, since the learning process is very complex. It includes pedagogy, methodology and learning assessment. Only a living teacher can provide this.
Mentor - only for the elite
Secondly, the old system of teacher (mentor) - student has been worked out for thousands of years. Nothing better was found. Video tutorials (compared to a normal lesson) are a pitiful surrogate. Many students do not perceive remote classes as full-fledged, real. It's a game for them. A lot of time is spent looking for material.
Only senior pupils, students who are aware that they need it, are more or less willing to study independently. For young and middle-aged children, this is a game. Such lessons are easy to skip, to find an "excuse". Most of the children in this format will not be able to get a normal education.
Hire a governor or shut up
For parents, this is another new problem. Most ordinary people are busy with work, survival. They do not have free time and funds to teach their own children (as in school), or to hire tutors and tutors. And not everyone can teach. There are people with good education, but they cannot explain something new to the child, they are not given.
At the same time, as manipulators of consciousness like to do, black is repainted into white and vice versa. They are trying to blame the problem exclusively on the parents. Like, if a child does not have a mobile phone, tablet and computer with the Internet, then irresponsible parents are to blame. Atu them.
Sterile minds
Thirdly, children are increasingly immersed in the "digital" world. Computers, laptops, telephones are replacing real life. Entire generations have been created with "washed" or "clean" brains. Without knowledge, ability to think, analyze. This is a deliberate degradation (stupefaction) of the younger generation.
In addition, children are left unattended for a large amount of time. Ideally, they should study, do something (culture, art, science, technology, physical culture) from morning to evening. Idleness and an excess of entertainment also lead to complete degradation. "Freedom" leads to an increase in child alcoholism, drug addiction (including fashionable electronic cigarettes), crime, the emergence of youth gangs, debauchery and early pregnancies, abortions.
Servants - a primitive skill set
In general, this whole program is similar to the one that at one time for the "subhumans" was developed by the German Nazis. The "higher race", the "chosen ones" need stupid, illiterate slaves. Plus a solution to the problem of growing the world's population.
The situation with the "virus" played the best role in the topic. It made it possible to dramatically accelerate the processes of transition to a "digital society" (
"Digital" Buchenwald
). In Russia, compulsory digitalization of schools is spelled out in the Education 2030 project. In it, in particular, it is noted that the last stage of the education reform will take place in 2022–2030. The digital school and distance learning should completely supplant and replace the traditional school. That is (as we have been observing for more than a year now) the children of the "chosen" -the rich study in elite schools and universities abroad or in Russia (where traditional teaching methods are preserved), and for the rest there will be a fairly primitive set of knowledge (to be able to read, count , and use the Internet. Perhaps, know the law of God).
Ram community
We remember the great Russian writer Nikolai Nosov and his "Dunno on the Moon":
"At first, you will be fed and watered and treated with whatever you want, and you will not have to do anything. Know yourself eat and drink, have fun and sleep, and walk as much as you like. From such a stupid pastime, the short man on the island gradually grows stupid, runs wild, then begins to grow overgrown with wool and eventually turns into a ram or a sheep. "
And then they are cut ...
Destruction of the Russian school - liquidation of Russia
Obviously, the distance is pure profanation of education.
A child cannot receive a full-fledged education remotely. Only through a teacher-mentor. This method can be partially and additionally used only in senior and high school, when children already have the skills for independent learning and some responsibility. Not surprisingly, such training has led to a sharp drop in the quality of education.
In Russia, when the students were sent home in the spring, it took a very short time for it to become noticeable to both teachers and parents. In the West, where the digital school has been introduced for years, there is already relevant research. The ability of students to understand what is written, to mathematics, their native language, etc. decreases. Everywhere the traditional school gives better results than the digital one. Distance learning is hitting the mental and physical health of children. Stress, weakness, aggressiveness, headaches, blurred vision and hearing. Digital autism (degradation of certain areas of the brain) and digital addiction can often be more dangerous than illegal chemicals.
Consumer slaves needed
It is also a further division of society. The mass, traditional school is dying. An individual trajectory of digital learning for each student is introduced. There will be no collective training, no basic knowledge obligatory for everyone, no single Russian (any national, civilizational) educational space.
In fact, a caste, estate (slave-owning) society looms before us.
The inscription made by the Nazis over the entrance to the Buchenwald concentration camp:
"To each his own".
The rich have the opportunity to educate children in elite schools, lyceums, universities. All talented, gifted children will also be singled out, since promising young people are needed by large corporations. There is a need for programmers, engineers, architects, artists, etc. The rest will be servants, "cannon fodder" in local wars, guards of the new order, consumer slaves.
And who is in the black?
Who is in the black? Information companies that sell their product receive huge profits. They work in conjunction with the largest banks, funds and pharmaceutical companies.
A digital project is a business based on information, big data. People from childhood are covered with a digital "cap". Digital or distance education is an opportunity to get almost all information about a child and his family.
Digital slavery
World TNCs and TNBs, financial capital are building a new version of the slave-owning civilization - "digital babylon". In the black are the officials and the oligarchic capital, who have brought the great power to the handle. For years they have been selling the wealth of Russia to the West and East, eating up the legacy of Soviet civilization. Fools and slaves cannot "ask" them. True, such a Russia and people have no future.
Also, the authorities, which since the 90s have been striving to "optimize" the entire country and people, a digital school, distance is beneficial from an economic standpoint. You can once again "optimize" (reduce) the number of schools, save on their maintenance (heating, electricity, water supply, food, etc.), salaries, equipment and buses. It is difficult with funds now, there is a crisis in the world and in Russia, so the social budget is being cut. Distance learning is cheaper. One person can give a lecture to hundreds of children. No room, textbooks or teaching materials needed. Cheap and cheerful!
Country of idiots 2.0.
In conclusion, we can quote the words of the great Soviet and Russian scientist Sergei Kapitsa:
"The VTsIOM data indicate that we have finally come to what we have been striving for all these 15 years, - we have brought up the country of idiots. If Russia continues to follow the same course, then in another ten years there will be no more of those who today at least occasionally pick up a book. And we will get a country that will be easier to rule, from which it will be easier to suck natural resources. But this country has no future! "
This prophecy was made in 2010.