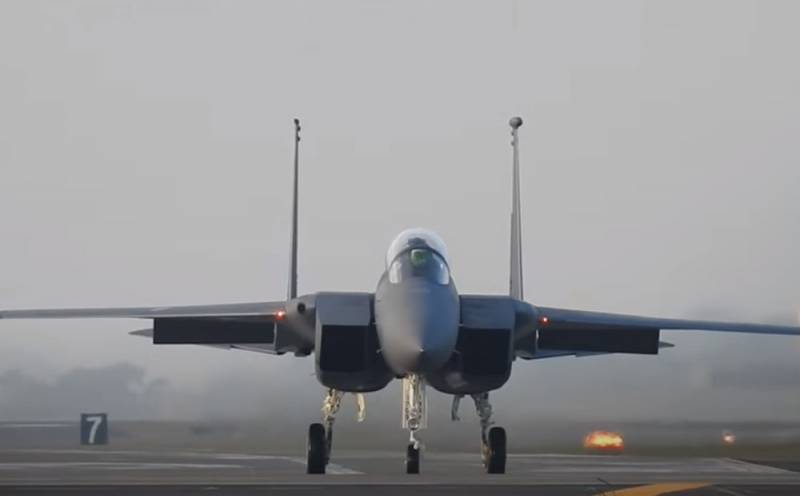 The Pentagon presented a report, which tells about the results of the investigation into the causes of the fall of the F-15C fighter of the US Air Force. The incident took place on June 15 this year. The plane, which took off from the airfield of Lakenheath airbase (Britain) to perform a planned flight, fell into the North Sea. For a long time, the USA could not answer what exactly the fall of the fighter was connected with.
Now the reasons are reported by a special commission of the US military department. The presented report says that the commission came to the conclusion about the error committed by the pilot.
In the cockpit of the F-15 was then 27-year-old US Air Force Senior Lieutenant Kenneth Allen. According to the commission, the pilot's attention was completely focused on intercepting a simulated enemy aircraft.
From the report:
The interception completely captivated the pilot, and at a critical moment he was unable to visually determine his position, also faced with bad weather conditions. Due to significant cloud cover over the North Sea, Officer Allen was unable to determine where the horizon was and did not feel that the plane was starting to descend sharply.
It became known that the plane was flying at an altitude of about 6,2 km. At this moment, the pilot received an order to make a U-turn and detect the side of a conditional enemy that needs to be intercepted. The plane was flying at a lower altitude.
Kenneth Allen began to descend to approximately 3,6 km and fired an air-to-air simulator. But at that moment he was told that the target was not hit. Then Allen decided to go for a rapprochement with a simulated enemy plane. At the same time, instead of approaching at the same altitude, the F-15 sharply went down and collided with water at a speed of more than 1000 km / h.
United States Air Force General Jeffrey Harrigan:
This unfortunate accident is another reminder of the attendant risks that pilots face on a daily basis to ensure the success of our Air Force. Lieutenant Allen was an outstanding officer who made a huge contribution to the common cause of our large team. No amount of words can compensate for this loss.
It is noteworthy that Senior Lieutenant Kenneth Allen graduated from the F-15C piloting training course only in January and in May he received the qualification of a slave on these fighters. It turns out that from that moment to his death, about a month passed.