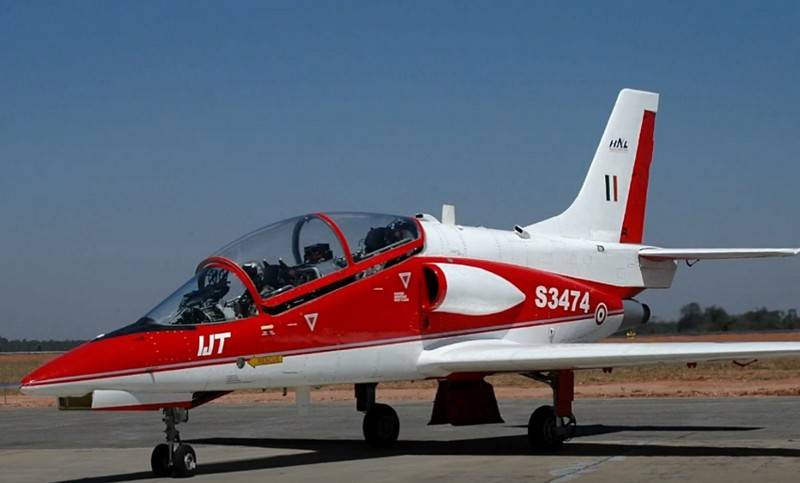 Specialists of the Indian company Hindustan Aeronautics Limited (HAL) have finalized two flight models of the advanced HJT-36 Sitara advanced jet trainer, as a result of which the aircraft will be able to perform complex aerobatic maneuvers, including a "barrel".
In 2019, India resumed the HJT-36 Sitara advanced flight training jet trainer program, which had been halted in 2016 following an aircraft control problem. In particular, it was extremely difficult for the pilot to regain control of the aircraft after performing the barrel roll.
In the course of updating the aircraft, slightly moving the vertical stabilizer back, increased the surface area of ​​the rudder.In addition, small parachutes were installed on the aircraft, with the help of which it would be possible to interrupt the uncontrolled rotation along the longitudinal axis in case of impossibility to restore control.
The modernized aircraft have already performed their first flights, performing one rotation on the port side and on the starboard side, the tests were recognized as successful.
The development of Indian training aircraft was launched in 1997 year as part of the program to reduce the dependence of the Indian armed forces on imported weapons and military equipment. The first flight of the HJT-36 took place in the 2003 year, after which development continued, with varying success, until the 2014 year, when the experts revealed a significant overweight of the aircraft. Having failed to cope with the problem on its own, India turned to several foreign companies to assist in reducing the mass of the aircraft.
In 2016, tests were discontinued, resuming only in 2019. To date, two modified flight models of the aircraft are participating in the tests.
The maximum take-off weight of the aircraft is 5400 kg. The wingspan of the 9,8 meter with the length of the aircraft in the 10,91 m. Engine: 1 × TRD "Saturn" AL-55I. Maximum thrust - 1 × 1760 kgf. The maximum speed is 750 km / h, the practical ceiling is 9000 m. The crew of the 2 person. It has five points for the suspension of weapons.