Combat ekranoplan. An apparatus from our past Soviet life, a half-aircraft-half-ship, the capabilities of which remained underestimated? Or something else?
"Lun"
In general, the idea of ​​a combat ekranoplan, at high speed approaching the enemy squadron and launching anti-ship missiles, still excites the minds of many. Fast, inconspicuous and deadly (by the standards of the XNUMXth century), some just want to see a ship in our
fleet
.
Perhaps this is normal.
The Americans have their aircraft carriers (such a dubious exclusive). We have Borei. But now you want something that will make the whole world shudder and start to fear us again. Poseidon, Petrel, ekranoplan ...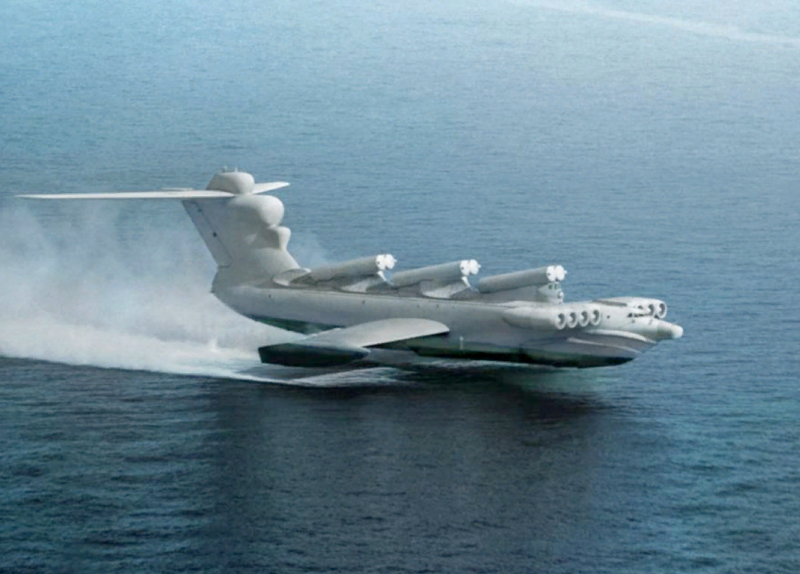 The main thing is to make it not entirely clear and frightening.
The former winged missile carrier "Lun" really looked terrifying. And they could scare the layman of any country without exception. Just because such
weapons
(albeit in the project) no one had.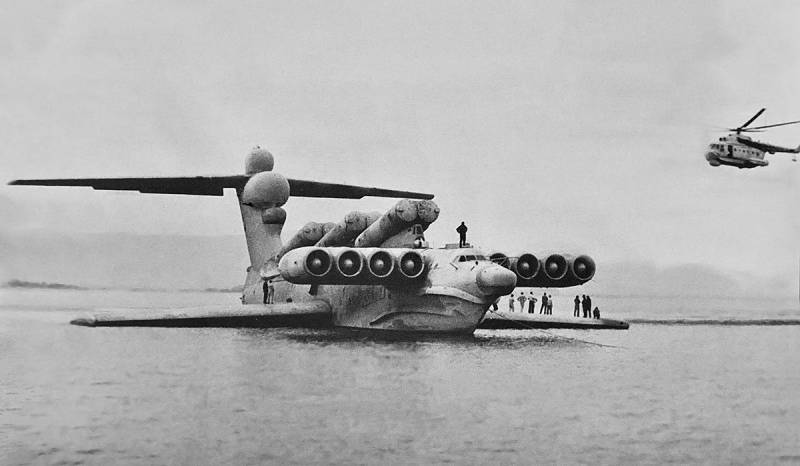 Combat value
The combat value of the ekranoplan today looks somewhat contradictory. Yes, this device has obvious advantages in the form of real tremendous speed. Compared to ships.
Today, many (among those advocating the revival of ekranoplanes) adhere to the point of view that an ekranoplan is, first of all, a ship. Therefore, it must be compared with ships.
Debatable, of course. But you can try to compare the Lun ekranoplan with modern ships.
Compared to modern destroyers, Lun has only one advantage: speed. We do not even stutter about stealth, this whopper from space will not be seen only by the satellite, whose lenses are turned towards Mars.
In addition, reconnaissance aircraft and ship-based helicopters will not leave any chance.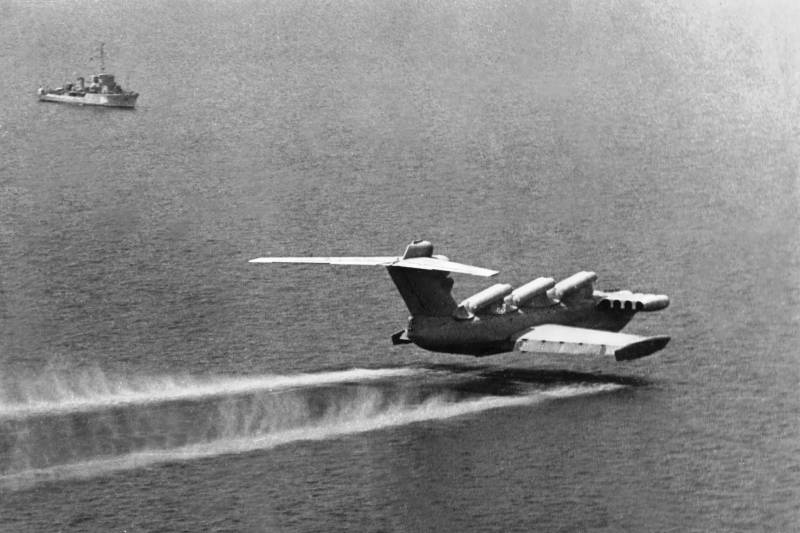 weaponry
But the speed advantage is also very difficult to realize. The Mosquito anti-ship missile system, which the Lun was armed with, they, to put it mildly, did not differ in a long range at low altitude, where the Mosquitoes realized their strengths. 120 km is not enough in our time.
Some will say - to take and transfer to "Caliber". Yes, a smart idea, I agree. The Lun was carrying three twin mounts for the Mosquitoes. "Calibers" will be smaller. Placement is not such a problem, perhaps as it seems at first glance.
But the same MRK "Karakurt" carries 8 "Caliber". Moreover, it is much better protected. In the sense that the defensive weapons are quite up to par. 2 × 30 mm AK-630M and MANPADS "Verba" (ammunition 8 missiles), and from the third ship of the series and in general "Pantsir-M" are installed. And the 23-mm Lunya cannons are (of course, yes) the last century.
nearly invisible
Well, what about stealth can be compared. "Karakurt" is slightly inferior in length. And in height "Lun" (with its 20 meters) will be higher.
In one online reference edition "Lunya" was put next to "Zamvolt" and the British "Type 45". It's funny, of course. "Zamvolt" in its cells only "Tomahawks" 80 pieces can carry. So - flattered.
Of course, a modern (and not modern) destroyer is not like an ekranoplane. This is the case when speed does not solve anything.
An ekranoplan, in fact, is a desperate attempt to at least somehow oppose the American strike groups with aircraft carriers. Approach imperceptibly (perhaps partially), release missiles and try to go back.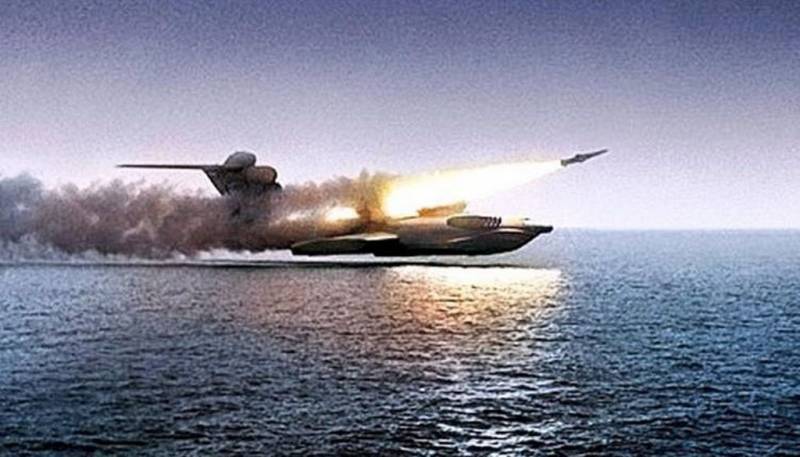 But more likely to die from blows
aviation
... Since the ekranoplan's maneuverability is not aircraft, and so is the speed. And we admit that there are not so many chances to fight off enemy aircraft.
After all, a cruise missile submarine is a much more effective weapon.
The death sentence
And as a representative of the Ministry of Defense said directly and honestly in 2011, when signing the death warrant for ekranoplanes:
"Now the fleet has many other serious tasks, not as daring as before. We prefer not to build illusions anymore. "
Indeed, in our time, it is better to leave illusion behind. A huge plane, or a ship - yes, it was an achievement
that
a country that could afford it. But today's Russia is not the USSR. And the best confirmation of this can be the official answer of the Deputy Director of the Department of the Aviation Industry to our reader, who made the corresponding official request about ekranoplanes.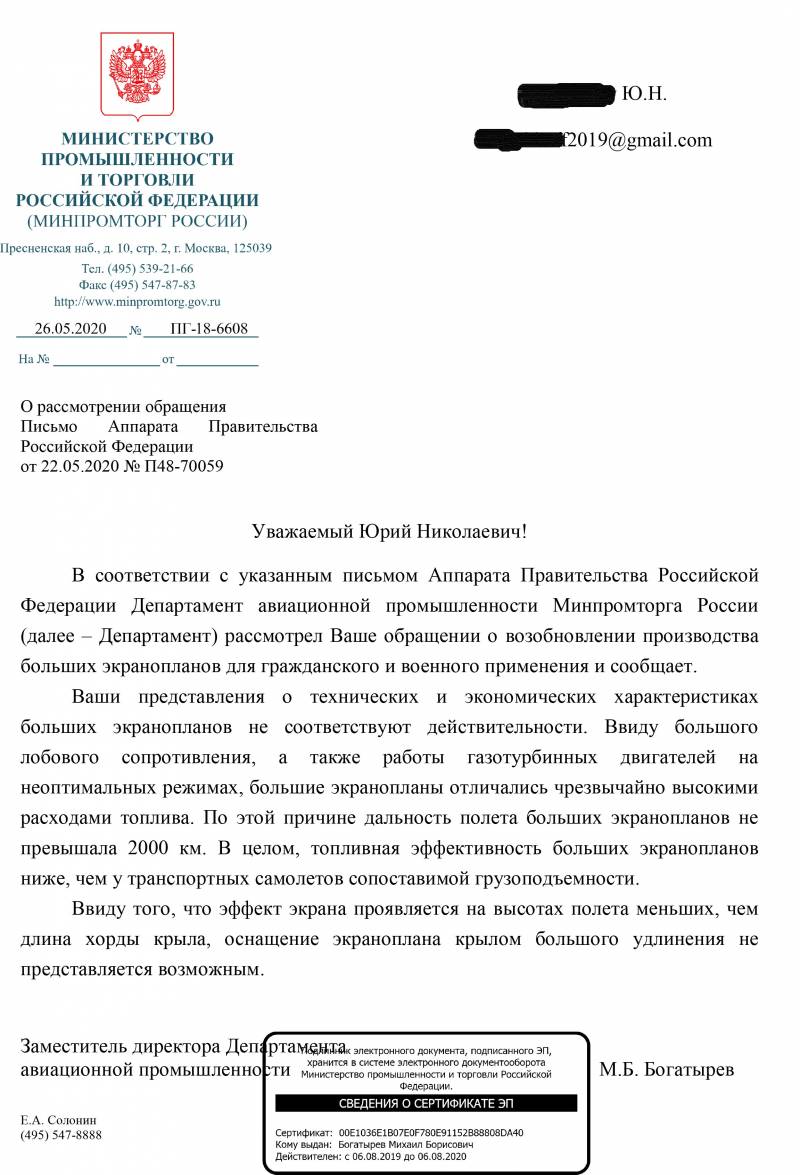 Actually, that's all. The ekranoplan became
history
from the times of the Soviet Union. And the Patriot Park in Derbent will be the only place where you can see this gigantic and impressive, but far from effective apparatus.