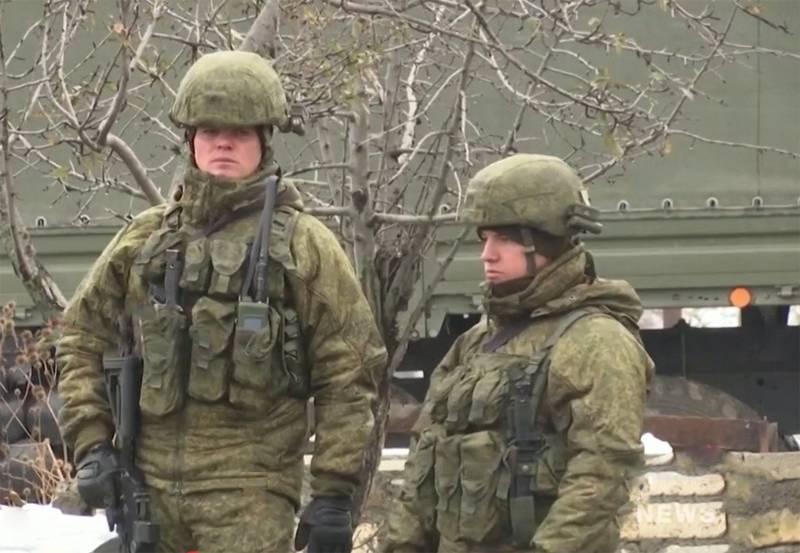 Russian military personnel deployed the headquarters of the peacekeeping mission in Stepanakert. Recall that under the agreement signed on November 9, a Russian peacekeeping contingent consisting of 1960 servicemen of the RF Armed Forces was deployed in Nagorno-Karabakh. The basis of the contingent is the soldiers and officers of the 15th separate motorized rifle brigade of the Russian Armed Forces.
The footage of the deployment of Russian peacekeepers in Stepanakert allows you to see
weapon
, which is a regular one for the mission in Karabakh. In particular, Russian servicemen have the latest AK-12 assault rifles, which have recently begun to enter the troops.
Earlier it was reported that AK-12 assault rifles were not used anywhere outside Russia, except in the Syrian Arab Republic.
Kalashnikov AK-12 assault rifles have been produced since the end of 2018.
In addition to Stepanakert, Russian peacekeepers are deployed along the line of demarcation of the sides, as well as in the Lachin corridor connecting Stepanakert with the territory of the Republic of Armenia.
Meanwhile, the Ministry of Defense of Azerbaijan has disseminated another video from the territories that came under Azerbaijani control either during the battles or after the concluded agreement. This time, footage from Hadrut and the village of Tug (Khojavend region) was demonstrated.
The drone footage shows the deserted streets of these settlements. Let's remind that earlier the Armenian population tried to leave the territories before the arrival of the Azerbaijani army.