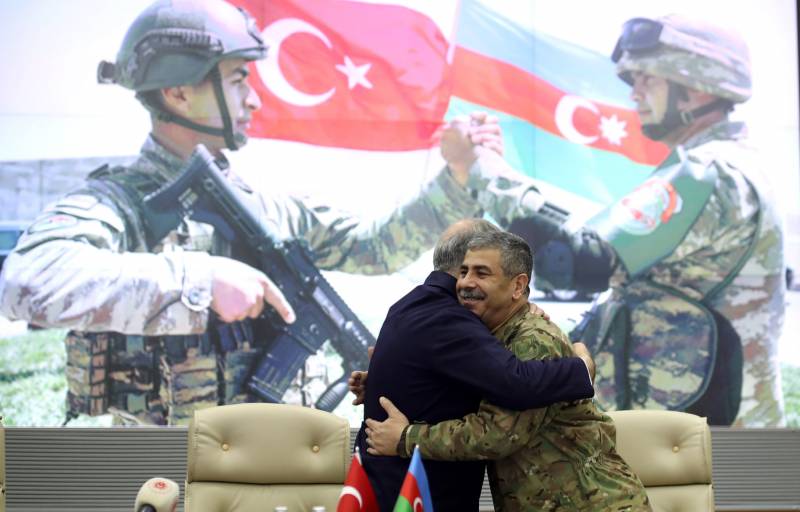 Turkish Defense Minister's visit to the Operations Planning Center of the Azerbaijani Defense Ministry
The Ukrainian army must be strengthened so that it is always ready to repel "Russian aggression". This should be done, despite Kiev's choice of a peaceful way to return Donbass to its control. This idea was voiced in an interview with the Deputy Secretary of the National Security and Defense Council of Ukraine, General Serhiy Krivonos, in an interview with the Ukrainian media.
The Ukrainian general is inspired by the success of the Azerbaijani army in Karabakh. He believes that the events in NKR, as a result of which Baku returned part of the lands seized earlier by the Armenian side, showed how important it is to have a strong army. Therefore, Ukraine, according to Krivonos, should also strengthen its armed forces "to remove any desire of the Russian Federation to continue its aggression."
The general said that the readiness to repel any "aggressive actions of Moscow is the primary task of the Ukrainian military, and for this the Armed Forces should be strengthened.
The NSDC Deputy Secretary believes that preparations should be carried out for war "in several dimensions" - in the information field and in the cyber space. As a "third dimension", the general mentioned the fighting on the ground and in the air. He stated that one should prepare for war not when it has already begun, but much earlier.
The success of the Azerbaijani army in Karabakh, according to Krivonos, can be an example for Ukraine in the Donbass, but the general for some reason does not take into account that the result of the Karabakh conflict was the introduction of a contingent of Russian peacekeepers into the region ...