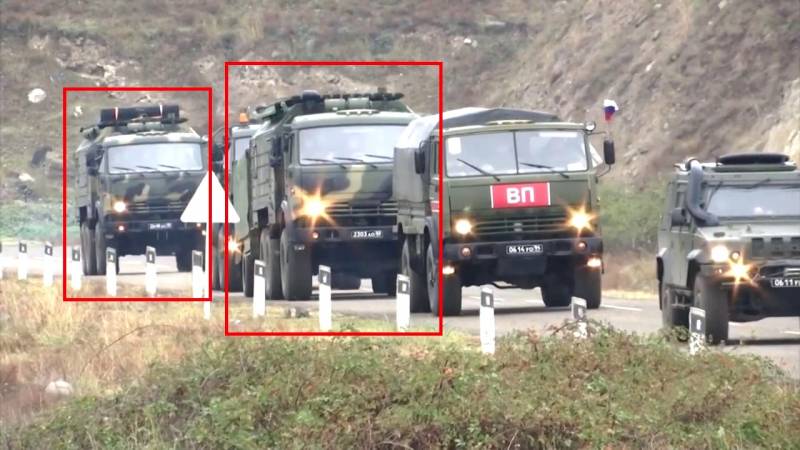 Russian peacekeepers have deployed the latest electronic warfare system on the territory of Nagorno-Karabakh. Vehicles with the RB-341V "Leer-3" complex with the "Orlan-10" UAVs were seen when the Russian convoy was moving to the place of deployment.
The Leer-3 complex itself technically consists of one KAMAZ vehicle with the corresponding filling and two (three) Orlan-10 UAVs. Calculation of the complex - 4 people. The complex specializes in GSM networks. A special feature of the complex is the delivery of electronic warfare and electronic warfare systems to the target using Orlan-10 drones.
The drone has a range of 120 km, the time spent in the air is 10 hours. Flight altitude - 5 km, speed: max - 150, cruising - 80 km / h.
The drone can carry a different load, depending on which it can perform the following actions: suppress mobile communications, simulate the operation of a cellular base station in the GSM 900, 1800, 2000, 2500 ranges and send false messages, detect phones, tablets, etc., conducting reconnaissance, plotting the location of subscriber points on a digital map, transmitting data about the location of subscriber points to artillery crews for a fire strike.
Depending on the equipment, the drone can work with subscribers at a distance of 3,5 to 6 km.
The complex was tested in combat conditions in Syria, where it confirmed its characteristics.