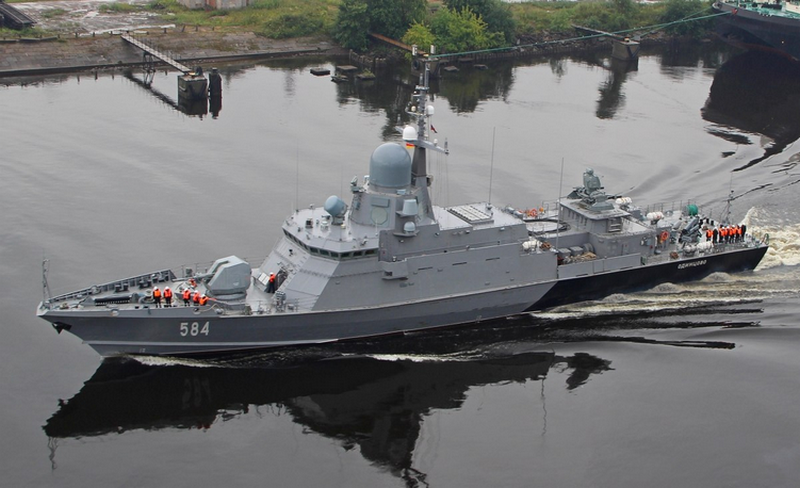 State tests of the small missile ship "Odintsovo" of project 22800 "Karakurt" have been successfully completed, all the characteristics laid down have been confirmed. This was reported by the press service of the Russian Navy.
The first MRK equipped with a naval version of the Pantsir-M air defense missile system will be accepted into the Russian
fleet
in the end of November. The ship will be part of the 1st Guards Division of the 36th Red Banner Order of Nakhimov, XNUMXst Class, of the missile boat brigade, which is located at the naval base in Baltiysk.
State tests of RTOs of project 22800 "Odintsovo" have been successfully completed. Odintsovo is the first surface ship equipped with Pantsir-M air defense missile systems. The tests of the sea version of the complex have been completed. All the characteristics laid down in the design of the spacecraft were confirmed during sea and state tests of the Odintsovo MRK. At the end of November, a ceremony will be held for the admission of the Odintsovo MRK to the Navy, and the Andreevsky flag will be raised on it
- said the commander-in-chief of the Russian Navy, Admiral Nikolai Evmenov.
MRK "Odintsovo" (laid down as "Shkval") is the third in the series and the second serial ship of Project 22800 Karakurt, built at the Pella shipyard in the interests of the Russian Navy. At the same time, "Odintsovo" is the first serial "Karakurt", on which the Pantsir-M anti-aircraft missile-gun complex (ZRPK) is installed. On the head MRK "Mytishchi" and the first serial "Sovetsk" air defense missile system "Pantsir-M" was not installed, they use 30-mm artillery mounts AK-630.
RTOs of this project have a length of 67 meters, a width of 11 meters and a draft of 4 meters. Displacement - about 800 tons, cruising range - up to 2500 miles, autonomy - 15 days. The main armament - one PU UKSK (universal ship complex) 3S14 RK for 8 KR "Caliber", one 76-mm gun mount AK-176MA, ZRPK Pantsir-M, two 14.5-mm or 12,7-mm machine gun MTPU.