What happened in Talgar
To bury and keep are words, perhaps even of the same root. "Love for fatherly graves" - I was not the first to say about it, I am not the first to remind about it.
But just the other day in my native, cozy and quiet Kazakhstani town of Talgar, a disaster happened, but no - a real disaster. Although this happens today almost everywhere, and regardless of in which country and under what government. Something has changed in people and especially, it seems, in those who, by the will of fate, were at the top.
So, in Talgar, local officials - bureaucrats, you cannot say otherwise, sold an attractive plot of land along with the grave of the Great Patriotic War veteran Alkhanbek Malkeyev located on it.
Rumor has it that soon this wonderful in all respects, almost paradise corner next to the highway crowded with cars will be indescribably transformed: a gas station will appear, a cafe will be opened nearby, and motley people will be pounded.
Yes, all this can be beautiful, but what about the grave? The saint is not only for me - the fellow countryman of batyr Alkhanbek, but also for very many. The grave where a man, poet, composer, deputy of the Supreme Soviet of the Kazakh SSR of the IV convocation (1955-1959) is buried, finally - a war hero, with which he returned as an order bearer, safe and sound.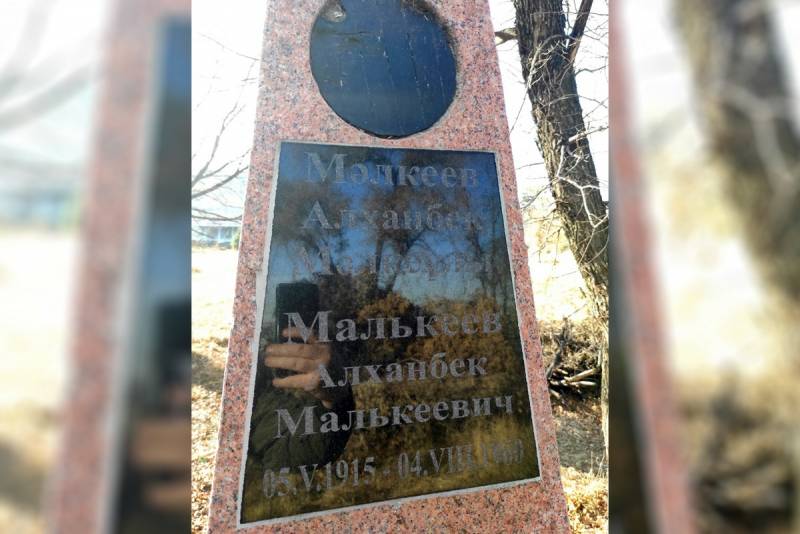 But it can simply be buried, as is often the case, and if there are relatives, they will ask to be reburied. But already, apparently, without any special honors.
You might say that this is happening in Kazakhstan, but not in Russia. I assure you that such lawlessness is happening everywhere and everywhere these days. And this happens when decent amounts of money are at stake, and numerous zeros immediately begin to spin in the heads of corrupt officials in power.
But it was in the modest Talgar that the units of the legendary 316th Panfilov division were once formed, whose fighters so heroically showed themselves in the battles near Moscow. Its commander himself fell from an enemy mine when there was a battle near the village of Gusenevo on November 18, 1941, not having time to see how his division, along with others, drove the Nazis away from the capital.
You probably remember 28 Panfilovites. Yes, in recent years, pseudo-historians, together with the writing and filming brethren, have spawned a lot of tales about the fact that they did not exist at all, and all these are inventions of one journalist from Krasnaya Zvezda and so on, so on.
Yes, but what about the fighting of the Red Army 1073rd Infantry Regiment Talgar, who did not allow the Nazis to break through to Moscow? A front-line soldier and writer Baurzhan Momyshuly received the title of Hero of the Soviet Union in our time, after he was buried.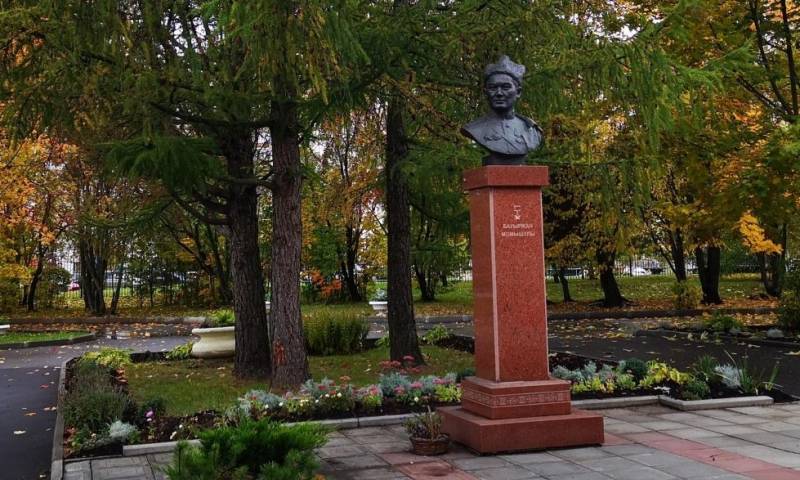 His name was given not only to the streets and villages in his native Kazakhstan, but also to the 1912 school of Zelenograd - very close to the very village of Kryukovo, where Panfilov's men heroically fought. His feat, as well as his works about battles-conflagrations, about friends-comrades, is not forgotten!
And my father Fyodor Aleksandrovich Malyutin is an artillery officer who fought and was shell-shocked in the battle for the capital. This cannot be erased from memory in any way! But that's what I think.
Open up your empty eyes
All over it is felt that the officials from the Talgar city administration have a completely different vision, a different vision. There is a piece of land, a wasteland, well, some kind of grave, why not sell it ...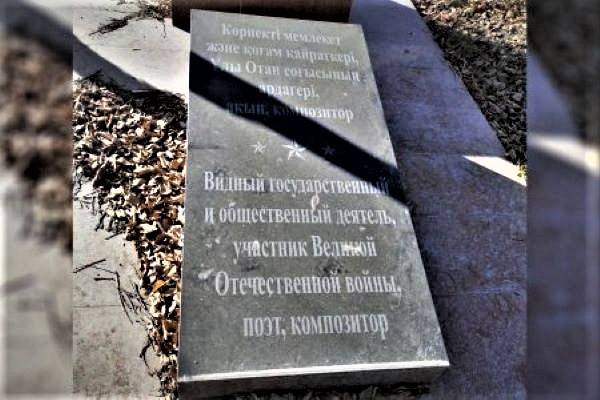 Remember, in Chingiz Aitmatov's great book "And the day lasts longer than a century", the image of a mankurt is written out, a man who lost his memory and after a while did not know who he was and where he was from, did not remember his father and mother, let alone
stories
as such, it is not necessary to speak. Such people forget everything and spit on everything, if they just fall for power.
In my Russian village of Svyatovo in the Yaroslavl region, which became a second homeland, there was once a rebuilt church along with an equipped churchyard. It was named in honor of the Sign of the Most Holy Theotokos, and the chapel with it - in the name of St. Basil the Great.
A healing spring gushed out from under the ground nearby. He was also called a saint, and the one who washed himself with crystal clear water got rid of all diseases. But the revolution broke out, the temple was dismantled and a flax factory was rebuilt from its stones. And the churchyard was dug down and dwelling houses were built out of place.
And even the spring, which could still give people priceless water, was covered with waste of human activity. Today the plant is practically bent down, there is no store, no post office, no first-aid post in the village, the lights go out periodically, because rotten pillars are falling, there is no gas, the highway is all in holes ...
And so after all, almost everywhere in Russia, wherever you go and go. You just need to take a closer look. Thousands of villages and villages are leaving, abandoned and destroyed churches are leaving.
Forgive us, batyr
But back to Alkhanbek Malkeyev himself. Today we are all advanced, and each of us is constantly looking for something on the Internet. Here is a Talgar official - take, and type the name and surname of the respected person Malkeyev, who was born in the land of ancestors and glorified this wonderful land - Kazakhstan with his deeds and his feat.
Well, if you have never been to Talgar and have not seen these mountain beauties, no worse than the Swiss ones, where the President of Russia Vladimir Putin, together with the President of Kazakhstan Nursultan Nazarbayev, sometimes looked, then you have missed a lot in your life.
Batyr Alkhanbek Malkeyev himself fought bravely and courageously during the Great Patriotic War. In 1941, he went to the front, smashed the enemy without mercy, roused the soldiers to attack, and he himself often personally set fire to
Tanks
and destroyed the enemy's manpower.
It is easy to find out about his awards on the website "The feat of the people", where it is written that the batyr Alkhanbek ended the war near Koenigsberg - on the 1st Baltic Front, in the 101st special rifle brigade of the 60th rifle corps of the 4th shock army.
Malkeyev was in battles until the days of May 1945, returned from the war as a major and with the Order of the Red Banner. How could one possibly encroach on this man's grave?
I think the passions will subside soon. The people will not allow to offend the memory of the one who defended them. Officials from the city of Talgar, naturally, should be punished. And everyone else who is in power must be punished: this cannot be done in the future. In order not to become mankurt in the future - people without memory!