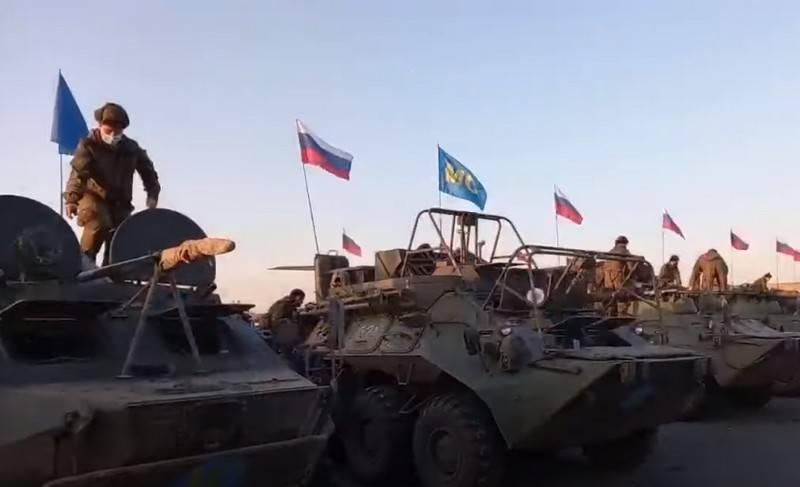 Russia transferred over 1,1 thousand peacekeepers and 168 pieces of equipment to Nagorno-Karabakh. This was announced by Defense Minister Sergei Shoigu during his report to Russian President Vladimir Putin.
According to the head of the military department, the Il-76 and An-124 military transport aircraft of the Russian Aerospace Forces Il-73 and An-25 made XNUMX flights in three days, maintaining an average rate of XNUMX flights per day. An operational group of the Ministry of Defense has already been deployed on the territory of Nagorno-Karabakh.
We continue to transport equipment and materiel at a rate of 25 sorties per day.
aviation
VKS Russia. In three days, 73 aircraft flights were made - 1 thousand 103 servicemen, 168 pieces of equipment were transported
- quotes the military department of the words of Shoigu.
Also, according to the head of the Defense Ministry, direct communication channels have been established with the Defense Ministries of Armenia and Azerbaijan, and work continues to clarify the parameters of the peacekeeping mission.
Shoigu specified that the deployment of observation posts in Nagorno-Karabakh will be completed on Saturday.
Today we are completing the deployment of observation posts in the "south" zone of responsibility. There will be nine in total in this zone. Another unit of peacekeepers is deployed in the north of Nagorno-Karabakh. Tomorrow we plan to complete the placement of eight posts in this zone
- he said, adding that four observation posts were set up in the region near the cities of Stepanakert and Shusha.
In total, 1960 servicemen of 15 separate motorized rifle brigade (peacekeeping) of the Central Military District, 90 armored personnel carriers BTR-82A, 380 units of automotive and special equipment, attack and military transport helicopters, and drones will be involved in the peacekeeping mission.
Meanwhile, Russian President Vladimir Putin announced the creation of an interdepartmental humanitarian response center to provide assistance to the people of Nagorno-Karabakh. The Center will include representatives of the Ministry of Defense, the Ministry of Foreign Affairs, the Ministry of Emergencies and the FSB Border Service. The main task is "operational support of the process of returning refugees to their places of permanent residence, interaction with the state bodies of Azerbaijan and Armenia to restore civil infrastructure and create conditions for normal life in Nagorno-Karabakh."