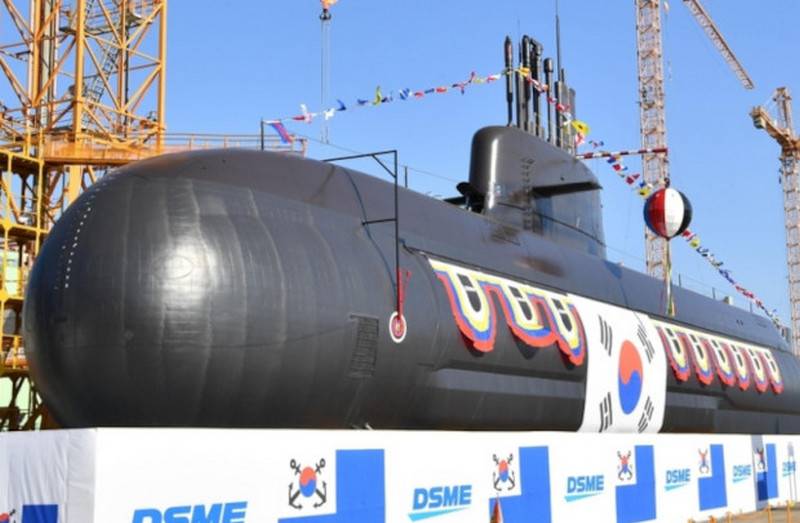 The second diesel-electric submarine of its own design with VNEU was launched in South Korea. According to the Korea Times, the ceremony took place at the Daewoo Shipbuilding & Marine Engineering shipyard on November 10, 2020 on Kojedo Island.
The new diesel-electric submarine belongs to the KSS-III project, fully developed by South Korean specialists. The beginning of the development of submarines of this project started in the early 2010s. The lead submarine, named "Dosan An Changho", was launched in September 2018. The second sub, launched on November 10, is named An Mu after a Korean independence fighter who fought against Japan.
Currently, two more similar submarines are in various stages of construction. In total, the South Korean Navy plans to receive 9 submarines of the KSS-III type. These ships should come to replace the ones currently in the
fleet
German diesel-electric submarines of project 209/1200 built in 1980-90s.
According to the published data, the surface displacement is 3358 tons, the underwater displacement is 3705 tons, the length is 83,3 meters, and the width is 9,6 meters. The submarine has an anaerobic setup, details of which were not disclosed. It is stated that thanks to VNEU, the submarine can stay under water for up to 20 days. Underwater speed - 20 knots. The cruising range is declared at 10 thousand nautical miles. Crew - 50 people.
The submarine has six non-nuclear vertical ballistic missile launchers.