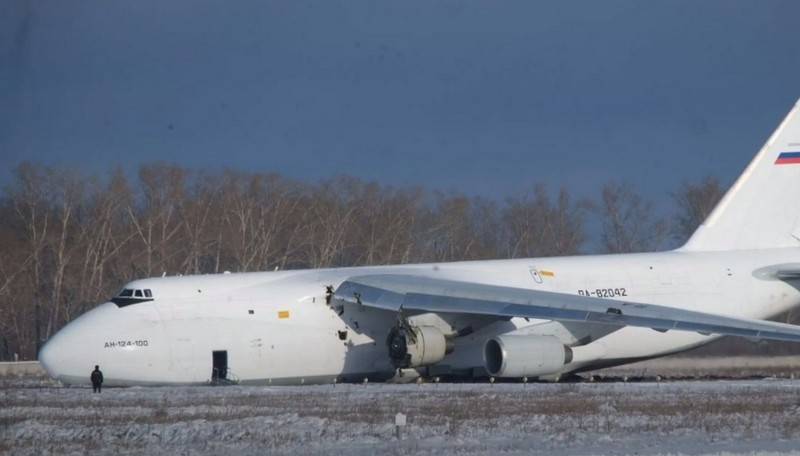 An An-124 Ruslan transport plane made an emergency landing at the Novosibirsk Tolmachevo airport. The plane skidded off the runway (runway), receiving serious damage to one of the engines, as well as the fuselage and landing gear.
According to the Federal Air Transport Agency, the cause of the emergency landing was engine problems. The plane was supposed to fly from Novosibirsk to Vienna, but immediately after takeoff, due to problems, it was decided to return. The pilot-in-command reported a refusal and requested an emergency landing.
During landing, the left landing gear and tires were damaged, after which the aircraft rolled out of the runway. According to the crew commander, the plane was planted blindly, the crew had no communication both with the dispatchers and inside the cockpit.
The plane was completely de-energized. That is, neither external nor internal communication - nothing. And there was no in-cab communication. We only got 300 meters (…) We didn't even have time to remove the flaps. Only the chassis was removed
- he said.
Eyewitnesses of the incident reported that fragments of the plane's engine were found outside the runway, they began to separate from the plane while it was still in the air.
There were 124 people on board the An-14, none of them was injured. A commission with the participation of representatives of the Federal Air Transport Agency will be engaged in clarifying the circumstances of the incident. On this fact, the West Siberian Investigative Department for Transport of the Investigative Committee of the Russian Federation opened a criminal case.