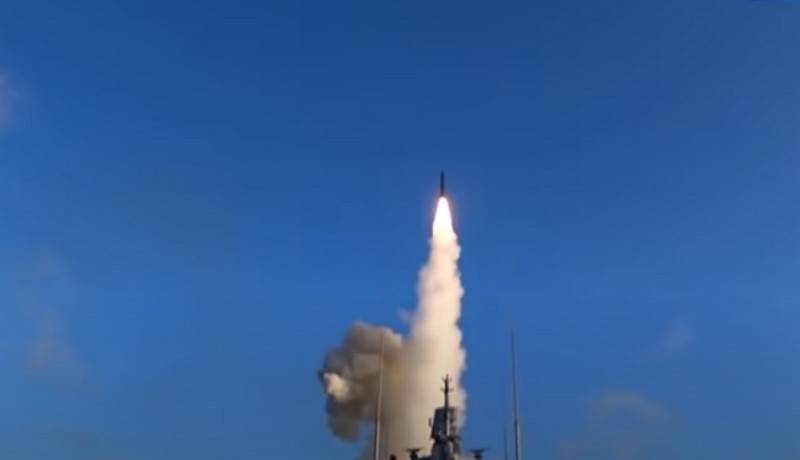 The first Russian serial frigate of project 22350 "Admiral Kasatonov" today, on November 12, launched a cruise missile "Caliber" at a ground target. The press service of the Northern
fleet
.
The frigate reportedly fired a Kalibr cruise missile at a target at the Chizha training range in the Arkhangelsk region, while at one of the sea ranges in the White Sea. The rocket, having covered more than 1 kilometers, successfully hit the target.
Today the frigate of the Northern Fleet "Admiral of the Fleet Kasatonov" successfully fired the main missile system at the coastal target. Rocket fire took place in the morning in the White Sea. The target located at the Chizha training ground in the Arkhangelsk region at a distance of over 1000 kilometers from the launch point was successfully hit by the head part of the Kalibr cruise missile
- said in a statement.
The ships and vessels of the White Sea naval base of the Northern Fleet provided fire support and protection of the water area of ​​the exercises.
Note that the frigate "Admiral Kasatonov" arrived at the Northern Fleet in mid-September this year. The ship has recently been actively involved in various tests of a new and modernized
weapons
... At the end of October this year, he took part in the tests of a new anti-submarine missile, which took place in the Barents Sea.
The frigate Admiral Kasatonov is the second ship of the 22350 project and the first serial after the lead frigate Admiral Gorshkov. Displacement of 5 thousand tons with a length of 135 m and a width of 16 m. The frigate is able to travel 4500 miles, while developing a speed of up to 29 knots. Autonomy of navigation is 30 days. The crew is from 170 people.
The frigate is armed with: 130-mm A-192 artillery mount, Poliment-Redoubt anti-aircraft missile system, launchers for 16 anti-ship missiles Onyx or Caliber, anti-submarine complex Package, anti-submarine helicopter Ka-27.