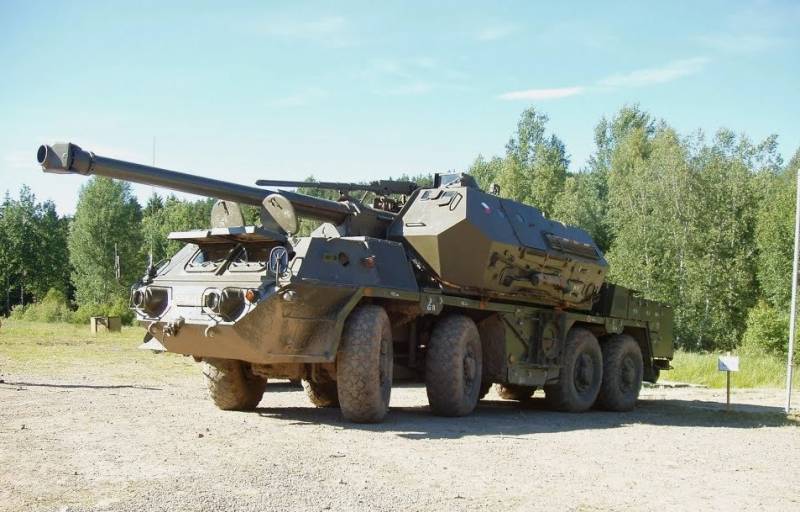 The Ministry of Defense of Ukraine purchases from the Czech Republic the decommissioned 152-mm self-propelled guns "Dana", the corresponding contract between "Ukrspetsexport" and the Czech company Excalibur Army has already been signed.
According to available information, the Ukrainian military department is acquiring 26 units of 152-mm self-propelled guns ShKH Vz.77 "Dana", "modernized", for 40 million dollars.
The Prosecutor General's Office, the Security Service of Ukraine and the Ministry of Defense have already received an appeal from deputy Alexei Goncharenko:
(...) The Ministry of Defense intends to purchase used, repaired and "modernized" 152-mm self-propelled howitzers vz. 77 "Dana". Excalibur Army from the Czech Republic, with which Ukrspetsexport has already signed a contract for US $ 40,3 million, may become a supplier of such products. (...) such a technique may be morally and physically obsolete. In addition, the Excalibur Army has a controversial reputation for corruption. I demand to carry out the necessary checks and urgently take action
The estimated book value of the ACS Dana ShKH vz. 77 is $ 62. The price of one modernized wheeled ACS vz. 000 Dana in the M77 version, according to the contract between Excalibur Army and Ukrspetsexport, is 2 million dollars.
In the Czech Republic itself, the Dana self-propelled guns were removed from service in 2018 and replaced by CAESAR 155-mm self-propelled howitzers. The Czechs refused to modernize the Dana self-propelled guns due to the impossibility of integrating this installation into a single system of digital data transmission, target designation, guidance and fire control according to NATO standards. Such modernization was considered too expensive, time consuming and problematic.
For our part, we note that the purchase of 152-mm outdated self-propelled guns "Dana" raises many questions with the declared transition of the Armed Forces of Ukraine to 155-mm NATO caliber. The Ministry of Defense of Ukraine has previously repeatedly stated a catastrophic shortage of 152-mm projectiles and the lack of its own production of ammunition of this caliber.
The 152-mm howitzer-gun "Dana" belongs to self-propelled artillery mounts on a wheeled track. Created in 1976 at the ZTS-Dubnica enterprise in Czechoslovakia (now the territory of Slovakia). Introduced into service in 1977. The abbreviation "DANA" means: "auto-charge vehicle gun". In automatic mode, the gun can fire up to 7 rounds per minute. With manual loading - up to 2 rounds per minute. The maximum firing range is 18,7 km.