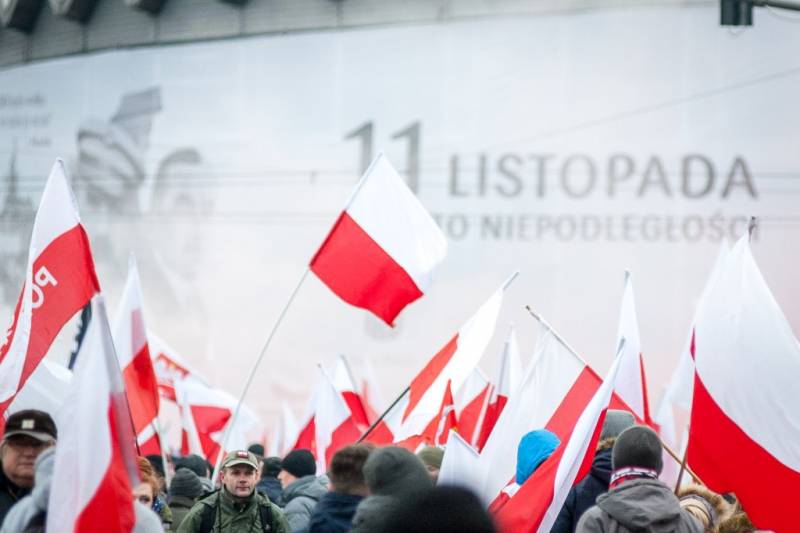 The traditional Independence March, which took place yesterday in the capital of Poland, escalated into riots by nationalists. It even came to clashes with the police, which had to use a smooth-bore
weapon
.
The riots and rallies in Poland are reported by local and foreign media.
Initially, due to quarantine restrictions, the March was planned to be held in the form of a motor rally. The city authorities approved this idea by issuing a permit for the event. But gradually a crowd of young people gathered with national flags, firecrackers and flares. Several thousand people gathered in the city center. They marched through Warsaw, shouting nationalist slogans, waving flags and provoking law enforcement.
As they walked past one of the houses, the crowd noticed a "Women's Strike" banner in support of anti-abortion protests and a rainbow flag on the balcony. The protesters began throwing flares and, possibly, Molotov cocktails there. They failed to hit the windows of the "wrong" dwelling, but they managed to set fire to the apartment two floors below.
For attempts to push back the crowd, the police also got hit, in which stones, bottles and flares flew. In response, law enforcement officers used tear gas and even firearms. During the clash, several police officers and protesters were injured.
Today the Polish TV channel TVN24 interviewed residents of the affected apartment and their neighbors. Stefan Okolovich, the owner of the burnt down apartment, found out about the fire when the chairman of the cooperative called him and reported the incident.
When dangerous objects flew into the house, the woman who lives on the floor above, her son and two children were in the apartment. The son had to take the children out of the house in order to protect them from danger.
As you know, Poland quite recently warmly and actively supported the Belarusian anti-presidential protests. But now Warsaw has no time for Lukashenka - there are enough of its own problems.
It is interesting to observe the metamorphosis of the politicians of this Eastern European country. For example, Polish Prime Minister Mateusz Morawiecki, who previously claimed that Belarusian protesters are motivated by a "thirst for complete freedom and democracy", says that "acts of aggression, barbarism and vandalism" are taking place in Poland. It's amazing how quickly he managed to change his views to diametrically opposed ones.