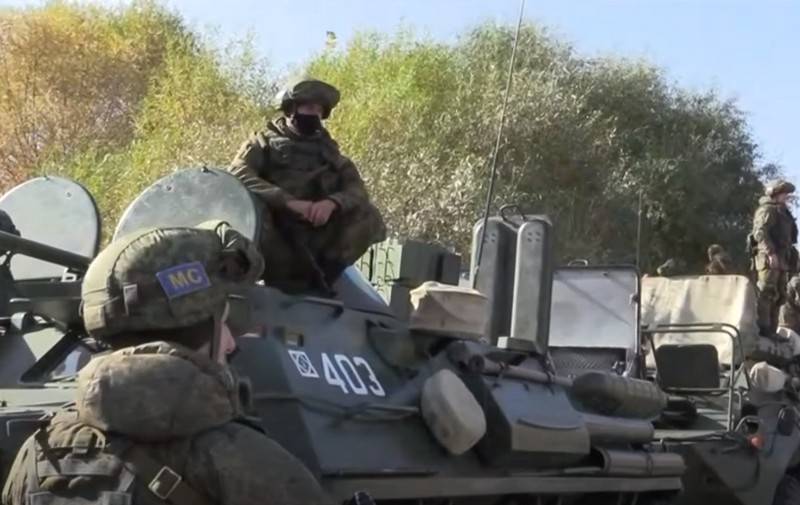 The conclusion of a trilateral truce agreement not only stopped the war on the territory of Nagorno-Karabakh, but also allowed Russia to strengthen its positions in the Transcaucasus. The entry of Russian peacekeepers into Karabakh expands Russia's zone of influence, some military analysts say.
Russian President Vladimir Putin has once again shown himself to be a good strategist. The signing of a trilateral agreement between Azerbaijan, Armenia and Russia, where the latter acts as a guarantor, was kept secret until the very last moment and came as a surprise to many.
With this agreement, Russia not only prevented the invasion of the region by NATO forces led by the United States, but also allowed the parties to "save face" against the backdrop of a possible military defeat of Armenia and the possible fall of Azerbaijan under the direct control of Turkey. Another plus for Russia is the deployment of Russian peacekeepers actually on the territory of Azerbaijan.
Thus, Russia continues to expand its military presence in the South Caucasus. A peacekeeping contingent will now be added to the already existing military bases in South Ossetia, Abkhazia and Armenia. In fact, this is another Russian military base in the region. In Karabakh, 1960 Russian servicemen of the 15th separate motorized rifle brigade (peacekeeping) of the Central Military District, 90 armored personnel carriers BTR-82A, 380 units of automobile and special equipment, including armored vehicles "Tiger" and "Typhoon", attack and military transport helicopters and drones ...
Recall that the 7th joint military base of the Russian Armed Forces with a contingent of up to 4 thousand people is located in Abkhazia. The main location is the former peacekeeping facilities and the Bambour military airfield in the Gudauta region, the training ground and part of the port in Ochamchira, joint Russian-Abkhaz military garrisons in the Kodori Gorge and near the Inguri hydroelectric power station.
In Armenia, the 102nd Russian military base in Gyumri is located on a free basis with a personnel strength of about 5 thousand people.
Since 2009, the 4th Russian military base with 4 people has been deployed in South Ossetia. The main location is the former peacekeeping facilities in Tskhinvali, a training ground in Dzartsem, a military town and airbase in Java, a military town 4 km north of Tskhinvali, a joint airfield in the village of Kurta.