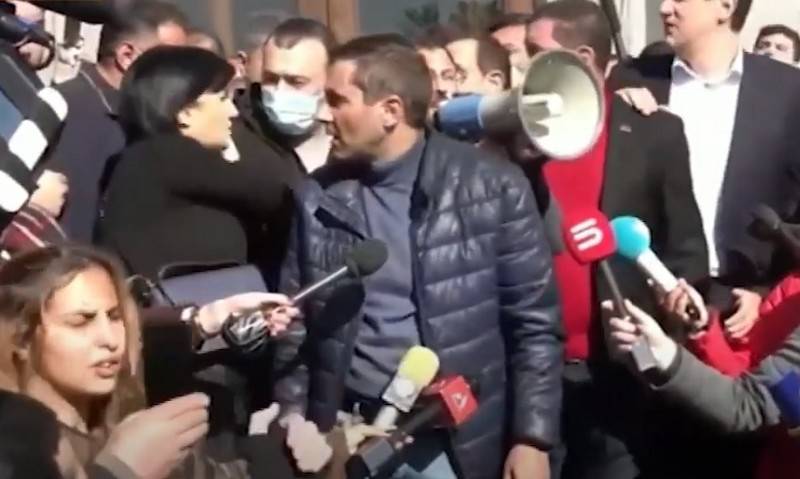 The Armenian opposition was never able to dismiss Pashinyan, despite the loud statements addressed to him and an ultimatum made the day before. As reported by the Armenian media, the previously announced meeting of the Council of the National Assembly (Parliament), at which it was planned to dismiss the prime minister, did not take place.
The Armenian Parliament was unable to gather a sufficient number of deputies for an extraordinary consideration of the draft decision of the National Assembly "On Discussion of the Current Situation, Ways to Get Out of It, as well as the Legality of the Statement signed by Prime Minister of the Republic of Armenia Nikol Pashinyan, President of Azerbaijan Ilham Aliyev and President of Russia Vladimir Putin 9 November 2020 ".
According to the head of the opposition "Enlightened Armenia" party Edmon Marukyan, only one deputy came from the largest "My Step" faction, whose leader is Pashinyan.
Failure to attend a meeting on this agenda means that 88 deputies of the National Assembly are in favor of preserving the country in its current state with all the ensuing consequences.
- said Marukyan.
In turn, secretary of the "Prosperous Armenia" party Arman Abovyan announced the parliamentary crisis.
(...) the quorum was not met, the meeting of the parliament council did not take place. This means that there is a parliamentary crisis in the country. We will continue to fight using all the possibilities of the constitution
- he added.
Meanwhile, ex-adviser to the Artsakh Foreign Minister Hrachya Arzumanyan announced the betrayal of the authorities of both Armenia and Artsakh. In his words, the war was stopped when "the enemy had already faltered" and the Artsakh defense army was preparing for an offensive.
We are faced with a national betrayal that will definitely enter the Armenian
history
... RA Prime Minister Nikol Pashinyan and Artsakh President Arayik Harutyunyan deliberately committed betrayal. It was a deliberate choice and step. As far as I know, none of the top military and political leadership resigned, and they become accomplices in betrayal
- stressed Arzumanyan.
It should be reminded that protests began in Yerevan after the signing of the peace trilateral agreement on an armistice. The protesters demand that Prime Minister Pashinyan be dismissed and the terms of the agreement revised.