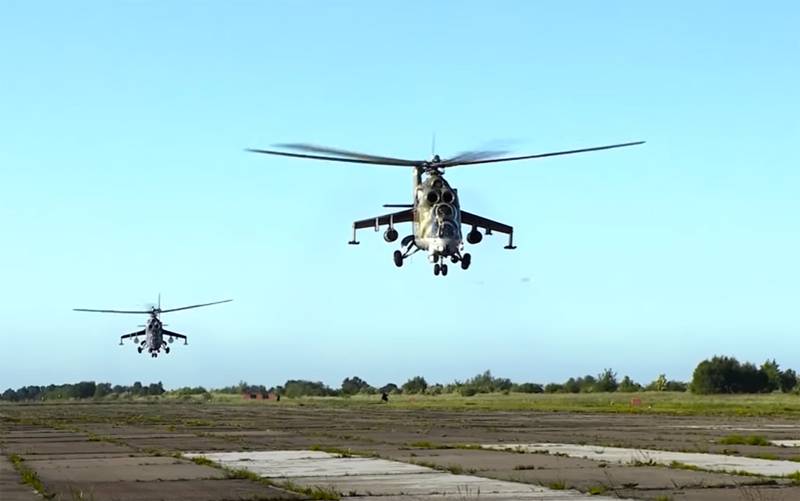 The Russian Ministry of Defense is providing updated data on the format of the peacekeeping mission in Nagorno-Karabakh. It is noted that the peacekeeping mission in the region, where hostilities ceased on November 10, will have
aviation
component.
According to the latest data, Mi-8 and Mi-24 helicopters of the Russian Aerospace Forces will support the activities of the Russian peacekeeping contingent from the air. In addition, unmanned aerial vehicles (UAVs) will monitor the situation in the unrecognized NKR.
According to General Sergei Rudsky, a total of eight Russian helicopters will be connected to the mission. These helicopters have already been delivered to the Republic of Armenia by military transport aircraft of the Russian Aerospace Forces.
It was noted that the Mi-8 will be used, in particular, for the operational transfer of personnel, as well as in cargo to various areas in which posts of the Russian peacekeeping contingent are set up. Recall that a total of 1960 Russian peacekeepers will operate in Karabakh, most of whom represent the personnel of the 15th separate motorized rifle brigade of the Russian Armed Forces.
Experts emphasize an important component of the Russian mission. Unlike a number of UN missions, where the peacekeeping contingent has the most formidable
weapons
are assault rifles, the Russian mission in Karabakh is much more heavily armed. In addition to attack helicopters, these are also armored vehicles.
In this regard, it is noted that the peacekeepers of the Russian Federation will not be only observers in the event of an attempt by one of the parties to resume hostilities in the region. Serious armament also clearly presupposes forcing certain forces to peace if any of these forces tries to disrupt the peace process. But in such a situation, you need to be especially vigilant, since both in the world and in the region there are many forces that may try to carry out a provocation to undermine the situation.