Indeed, who won the conflict in Karabakh? Nominally, it turns out that Azerbaijan. Not really. Azerbaijan lost this war - and quite unexpectedly. And now you can comfort yourself as much as you like with the fact of acquiring land by, let's say, sudden, but prepared aggression. But the fact is that the results of the war were very, very unpredictable.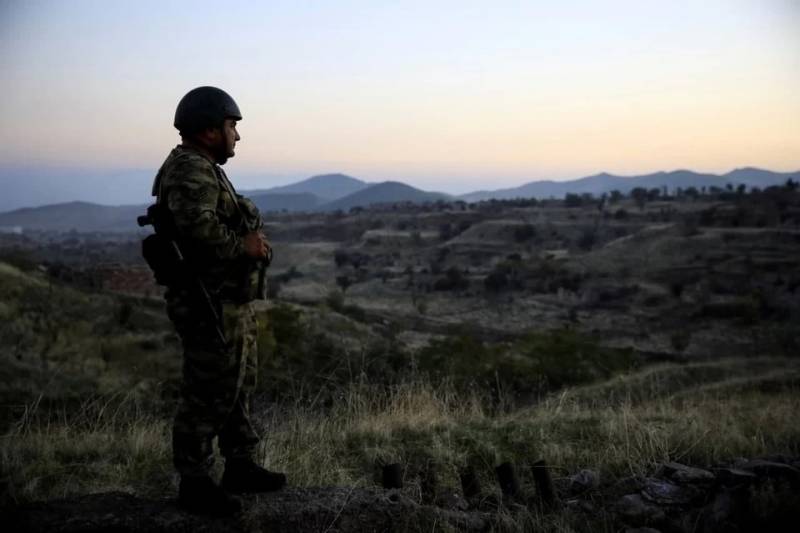 Everyone pursued their own goals
It is a fact that Azerbaijan was winning this war "with a clear advantage", while official Yerevan was engaged in processes that are difficult to understand and, in fact, simply let everything go by itself.
The fact that the NKR "army" was unable to cope with the Azerbaijani armed forces, and even with the support of Turkey, is understandable.
The fact that Armenia stubbornly waited, that Russia was about to intervene and begin to defend its ... ally, this is also obvious. The Internet is now replete with statements like: "We were betrayed!" (performed by Armenians).
But you must agree, all these people who, on the night of the signing of the armistice, smashed state buildings, beat the deputies and performed other "feats", why did they heroic in Yerevan, and not in Shusha?
However, nothing surprising. It happens so often. For throwing a stone at the window of a house is much easier than throwing a grenade at a tank, for example.
So no complaints about the parties: each pursued its own goals.
Who got what
Another question: who got what?
Azerbaijan (as I said) received the territories of three regions. In general, this is more a political moment than an economic one. Because
история
the confrontation between Armenia and Azerbaijan in Karabakh has been going on for more than a hundred years.
However, having received territories, has Baku solved the Karabakh problem as a whole? No! Moreover, a situation has now arisen there (which we will talk about below), which, in general, nullifies everything.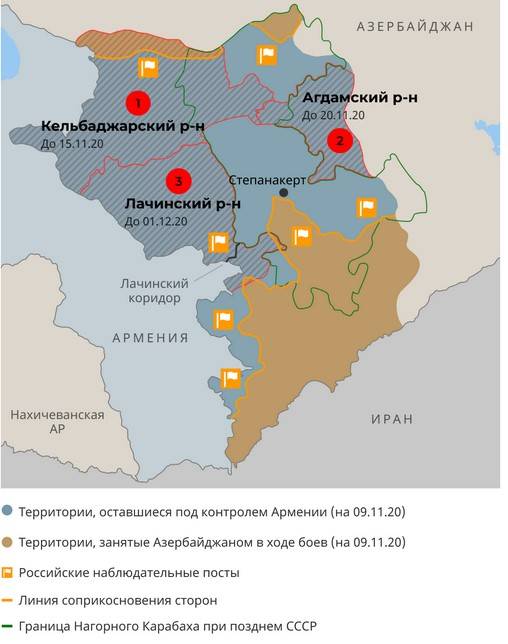 Now about Armenia in more detail. In short: Yerevan was not just losing the war, but with a bang. The NKR army has actually ceased its resistance, and official Yerevan practically lied that "everything is under control".
As a result, in this situation (when Yerevan sat and waited for Moscow to intervene and did nothing at all), the defeat was assured. In theory, Armenia was heading for loss
total
Karabakh.
Is this not a "gift of fate"? At the moment of complete defeat, get it? Paid, again,
Russian lives
.
At the cost of Russian lives
Pilots Major Yuri Viktorovich Ischuk and Senior Lieutenant Roman Vasilyevich Fedin actually saved the inevitable defeat in Karabakh at the cost of their lives.
And now no one in Armenia can get away from this.
The "miraculous" (and no other word comes to mind) rescue of the NKR happened precisely due to the very strange situation with the Russian helicopter.
Now many have thrown themselves into conspiracy theories. We began to ask ourselves the question: "What was the Mi-24 doing in the border area at night?" And there are many such ambiguities, which translate the situation into a kind of provocation.
Yes, the Mi-24 may not be the best helicopter for night combat. Maybe even the worst. So what? Our helicopter flew over the territory of Armenia, for which its crew had all the rights and permissions. Reconnaissance, observation, escort - what's the difference, in the end? The helicopter had the right to be in the airspace of Armenia, and on this we put a fat point.
Further. Could or could it not have hit the Azerbaijani crew with a rocket? Point again. Official Baku admitted that the rocket was theirs. They were shooting from their territory. Sorry. Ready to compensate, etc.
The rest of the reflections on the topics: "could or could not", "by accident or not by accident", "provocation or not", etc. - this is already on the conscience of everyone.
In fact, our crew did not shoot at anyone, did not pose a threat to anyone. Therefore, the situation can be interpreted in different ways. But in reality everything turned out in favor of Armenia.
You can also fantasize that this is all rigged. Yes, indeed, everything happened in a very timely manner for the Armenian side. But it happened. Accordingly, it was Major Ischuk's crew that saved hundreds of Armenian lives.
I will repeat for the dull lovers of conspiracy and fantasy: Major Ischuk and Senior Lieutenant Fedin have covered hundreds of Armenian soldiers. And Armenia owes these two pilots, no matter what they say. And it is very much obliged.
Armenia did not lose, Azerbaijan did not win
First of all, it is obliged to keep at least something in Karabakh. Yes, we lost Shushi, which will now be Shusha. We lost three districts. But they kept the rest! And it could have been completely different. Armenian media and officials told tales to the whole caring community. Meanwhile, Azerbaijani troops occupied one square kilometer after another. And they would have occupied the whole of Karabakh at such a pace.
So, in such and such light, the defeat of Armenia is actually not quite a defeat either.
As well as the victory of Azerbaijan, it also looks very ambiguous.
And now we come to the most basic thing.
Who won in Karabakh?
Peacekeeping of Russia
And she won in Karabakh
Russia
.
Let's face it: the victory was with the Russian Federation, even though Russia did not play for anyone.
Indeed, even this spring, Russian Foreign Minister Sergei Lavrov said that the Pashinyan government is considering and discussing "a phased plan for a settlement in Karabakh." A huge number of specialists spoke out about this plan. And most of them admitted that the plan was unacceptable to both sides. And that its implementation can lead to the seizure of Karabakh by Azerbaijan.
Which, in fact, happened.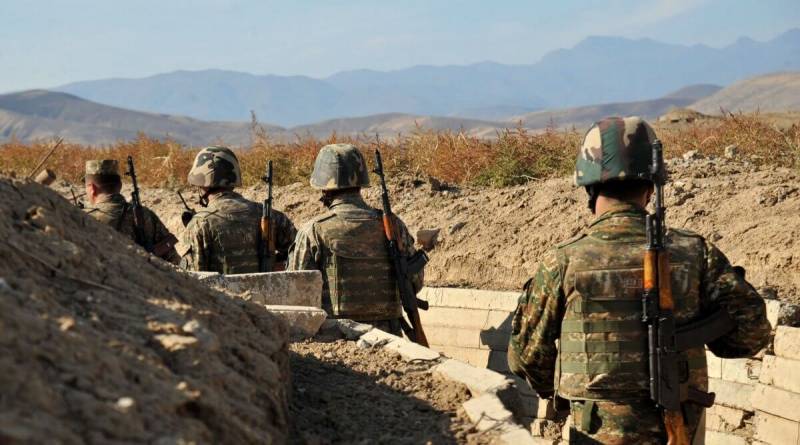 Nikol Pashinyan. Definitely not an ally of Russia. His dancing with the West was appreciated by everyone. Shouts: "We want to join NATO. The complete disdain he showed for Putin in October 2019. Derogatory statements. - All this did not characterize him as an ally and friend.
Attention, the question: "Why should Russia support such ... a neighbor?"
With Azerbaijan, everything is easier, in my opinion. You can simply cooperate with this country without burdening yourself with any global projects.
When Armenia was seized by the velvet revolution, the vector began to shift rapidly. Turkey is not a friend, Azerbaijan is not an enemy, Georgia is not quite an enemy and Armenia is not a friend: here is the situation in which Russia began to rapidly lose its influence in the Transcaucasus.
It is clear that Turkey would like to replace Russia. A Turk and an Azeri are more than brothers (in the usual sense). It's like an Indian and a Pakistani. One people, simply divided by borders.
And the union of Turkey and Azerbaijan is a strong and strong union, which is not entirely realistic to destroy. And this alliance could easily determine the policy beyond the Caucasian ridge.
conclusions
What do we have today?
The incident with the Russian helicopter turned Russia: from the status of an "observer" to the status of an "injured party". Azerbaijan immediately backed down, and Armenia exhaled.
Yes, Azerbaijan returned a significant part of "its" territories, which belonged to it for a long time. But the problem of Karabakh itself will not be solved yet.
Moreover, the "victorious" Azerbaijan received Russia in its "acquired" territories as an observer and controller.
It is the Russian peacekeepers who will monitor the implementation of the signed documents and monitor the ceasefire over the next five years.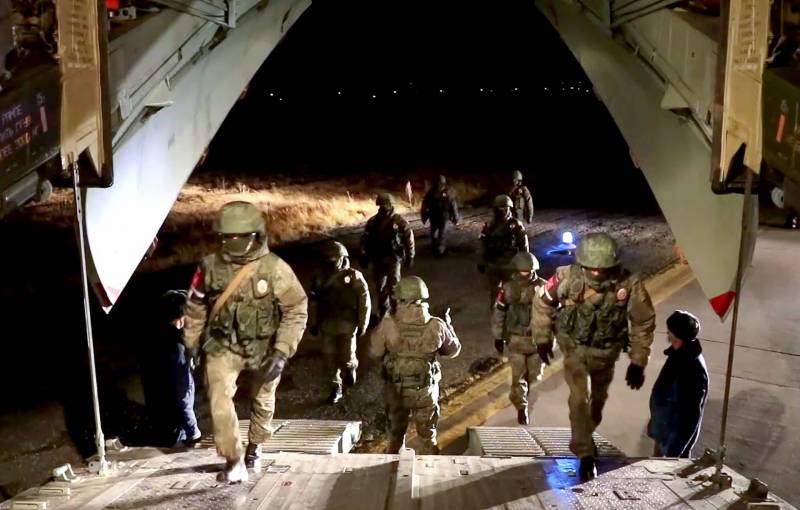 It is the Russian border guards who will control the work of the Lachin corridor between Karabakh and Armenia and a similar corridor between Azerbaijan and the Nakhichevan Autonomous Republic.
It was Russia that regained control of the region. Even if she didn't want to.
You can now talk a lot about what was the cause: a fatal accident or a well-planned operation.
The fact is that Russia is again in the political game of the Transcaucasus. For the next five years. What will happen next - we will see in five years. But the fact that the struggle for Karabakh, which began in 1918, will continue is reality. Neither Armenians nor Azerbaijanis will just stop. Some will strive to return what was lost, the second - to take away all that is left.
But I would like to remind you that now Russia is in the game. Our pilots Major Ischuk and Senior Lieutenant Fedin paid for the peace and quiet in the region with their lives. And this should be remembered by all parties.
It is not the best scenario - to make Russia an observer and "breeder" in the age-old quarrel around Karabakh. But if this happens, you will have to try to restore order in the region.
This will not appeal to many on both sides of yesterday's front lines. But this was not our initiative, it was not our goal. It's just that Russia will once again have to save other people's lives at its own expense.
But we are historically no stranger. But I would very much like the number of victims on our part, albeit in the name of life, to be as few as possible.