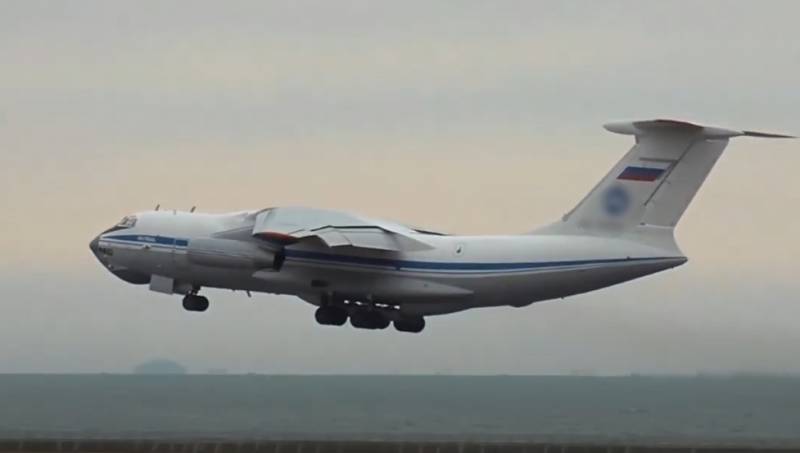 There is evidence that the country's authorities have opened the Georgian airspace for Russian Aerospace Forces aircraft. Such statements are made on the basis of data that were displayed by sites that track the movements of various kinds of aircraft.
The reference, in particular, goes to the data of the FlightRadar24 website, on which the route of the Russian Il-76MD military transport aircraft was "highlighted". Indicated on board with number RA-78835, which departed from Mozdok and landed at Erebuni airport the night before.
This airport is located near Yerevan and is used by the Russian Armed Forces stationed in Armenia.
Let us remind that since yesterday the aircraft of the VTA of the Russian Aerospace Forces have been carrying out the transfer of the Russian peacekeeping contingent to Armenia.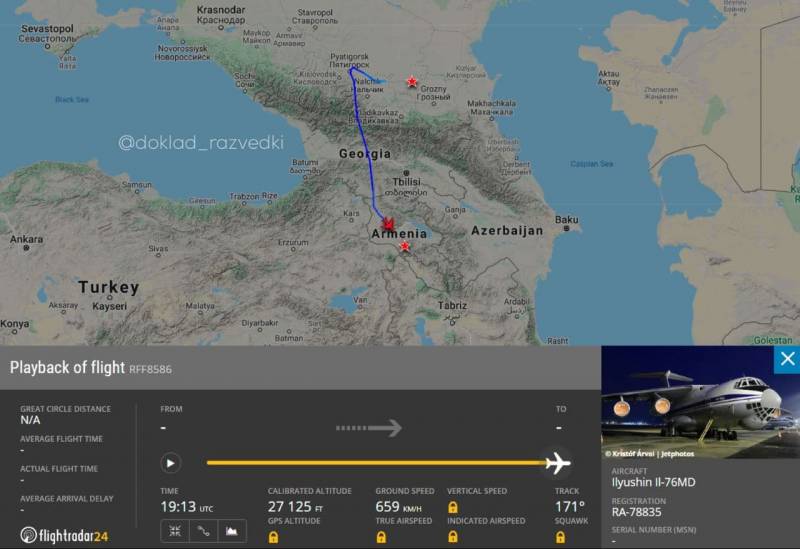 From there, Russian servicemen and military equipment are sent to Nagorno-Karabakh on the basis of agreements between Armenia and Azerbaijan. Today, the Russian peacekeeping contingent began setting up observation posts in the so-called Lachin (Berdzor) corridor connecting Armenia with Stepanakert.
It is noteworthy that statements about the flights of aircraft of the Russian military transport
aviation
are also published in the Ukrainian media. At the same time, radicals in both Georgia and Ukraine say that official Tbilisi "makes a gross mistake" by providing the Russian military with an air corridor to Armenia. The most conspiracy-minded users decided to remind at all that the Il-76 aircraft are used not only for transporting people and cargo, but also for the landing of airborne troops and military equipment. Apparently, the conspiracy theorists fear that the Russian military "may begin landing on the territory of Georgia from the aircraft of the VTA of the Russian Aerospace Forces."
The day before, Georgia and the West criticized the country's president, Salome Zurabishvili, who declared the beginning of a "new era in the Caucasus" and thanked everyone who contributed to ending the war between Armenia and Azerbaijan. For example, former US Ambassador to Georgia Ian Kelly criticized Zurabishvili's statement, saying that the president of the country, "a part of whose territory is occupied, thereby expresses gratitude to Russia." Let us recall that Georgia continues to consider South Ossetia and Abkhazia as their territories.