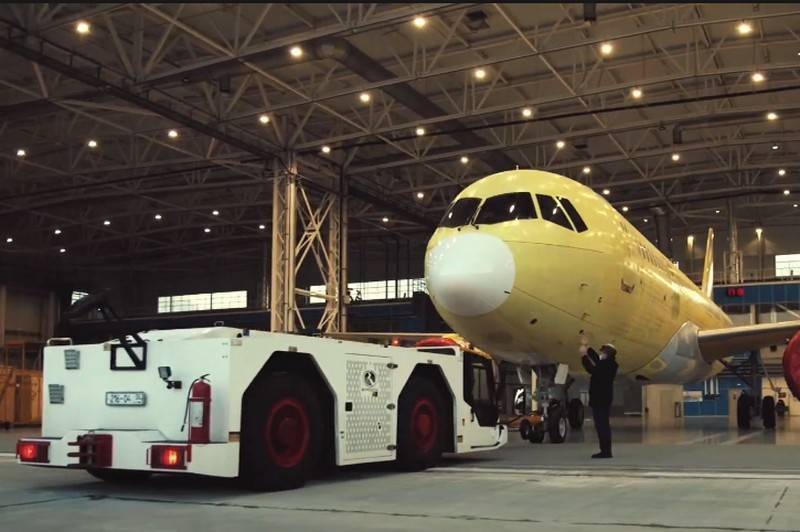 The Irkut Corporation has completed the construction of the first MC-21-310 aircraft with Russian PD-14 engines; the aircraft has been handed over for flight tests. This was reported by the press service of Rostec.
The Corporation rolled out the first prototype of MS-21-310 passenger aircraft with Russian-developed PD-14 engines. On November 6, the aircraft was transferred to the flight test unit of the Irkutsk Aviation Plant from the assembly shop. According to the plans of the testers, after checking all the aircraft systems, it will pass the required ground tests, after which it will start flying. As previously reported in the UAC, the first flight of the MS-21 is scheduled for the end of this year.
Earlier it was reported that the PD-14 engine installed on the new airliner managed to pass full certification in Russia, and the European one is planned for the end of 2022. It is planned that two MC-21 aircraft will undergo flight tests.
Recall that at the end of July this year, a mock-up of the PD-14 engine was first mounted on the MS-21 pylons. The engine slid into place without comment. During the installation, the correctness of the design solutions incorporated into the engines was confirmed.
The medium-range airliner MS-21 has been under development since the early 2000s. All previous tests of the MS-21 took place with the American PW1400G engine. Now the MS-21-310 with the Russian PD-14 turbofan unit starts testing.
The PD-14 turbofan engine has been developed since 2008. This is the first new
aviation
engine developed in Russia over the past 30 years. The PD-14 two-circuit twin-shaft engine is capable of developing a thrust of up to 14 tons in take-off mode.
The MS-21 will be supplied to Russian customers with PD-14 engines in the MS-21-310 modification, and for export - with the American PW1400G power plants.