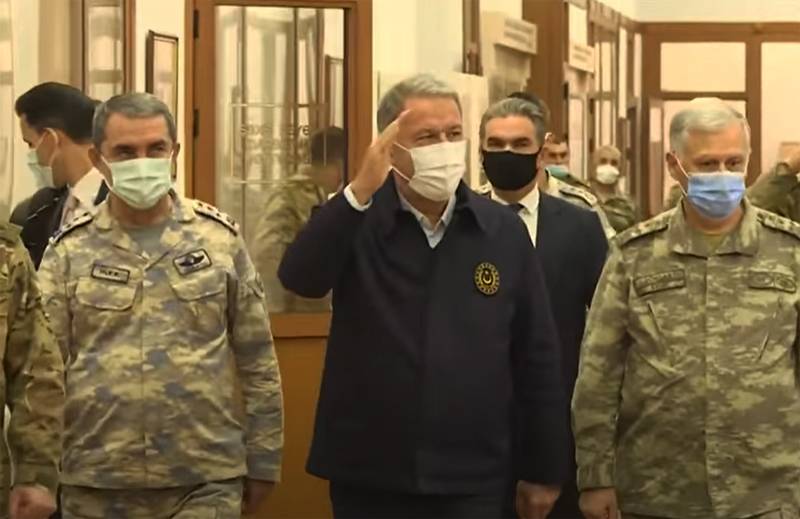 Turkish Defense Minister Hulusi Akar has once again arrived in Azerbaijan, as reported by the press service of the Azerbaijani military department.
Attention is drawn to the fact that the Turkish minister ended up not just anywhere, but at the Central Command Post of the Ministry of Defense. This is the holy of holies of the defense department of Azerbaijan, where military planning is carried out. It was at the Central Command Post that the work on planning the military operation carried out by the troops in Nagorno-Karabakh was carried out.
Hulusi Akar was given a central place, where he sang the anthem and addressed the servicemen, congratulating them on the victory in Nagorno-Karabakh. According to Akar, Turkey is ready to provide all kinds of military and military-technical assistance to Azerbaijan.
The very appearance and behavior of Hulusi Akar at the indicated object of the Azerbaijani Ministry of Defense gives reason to experts to say that the Turkish minister "felt like a boss." This was the assessment voiced after the visit of an official from Ankara to Baku.
Also, this visit of Akar gives reason to say that the Turkish military presence in the territory of the Republic of Azerbaijan will remain. It should be reminded that earlier, Ilham Aliyev, during a video communication session with Vladimir Putin, indirectly addressed Erdogan, stating that a "Russian-Turkish peacekeeping mission" would be carried out in the region.
A few hours later, the head of the press service of the Russian Foreign Ministry, Maria Zakharova, commenting on the question about Aliyev's words, said that the agreement deals only with Russian peacekeepers.