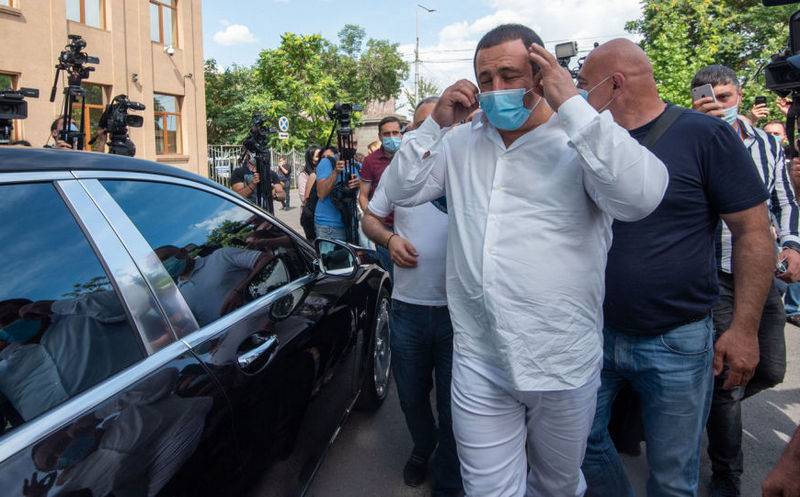 The Armenian authorities began dispersing the protesters against the ceasefire in Nagorno-Karabakh. According to local media, clashes between the police and the protesters began in Freedom Square in Yerevan.
Today, November 11, protests continue in Yerevan, representatives of the opposition parties of Armenia and protesters gathered in the main square of the capital. The main slogan of the protesters is the resignation of Prime Minister Nikol Pashinyan and the revision of the terms of the truce with Azerbaijan.
The Armenian security forces began to detain the main oppositionists. The National Security Service (SNB) has already detained the leader of the opposition Prosperous Armenia Party (PA) Gagik Tsarukyan. There are reports of clashes between protesters and security officials.
The authorities, instead of overcoming their fears, an inferiority complex, once again he goes to the detention of Tsarukyan. They never realized that they could not detain or arrest three million people
- said the representative of the party Iveta Tonoyan. She is echoed by member of the Council of Elders of Yerevan from the "Prosperous Armenia" faction Hripsime Arakelyan:
People, come out, just Gagik Tsarukyan was arrested on Freedom Square. PA deputies were also arrested. Quickly come here, traitor, the man who surrendered the land, proceeded to insidious, fraudulent actions ... Get up!
The opposition claims that the country's leadership is "trying to shift the responsibility" for signing the agreement on Nagorno-Karabakh onto others.
The police, in turn, declare the legality of their actions, explaining the detention of the opposition by a "ban on holding mass gatherings" under martial law introduced in the country.
Earlier it was reported that the Armenian opposition intends to hold a rally in Yerevan on November 11 at 13:00 and protest against the conclusion of a trilateral statement on Karabakh. The participation in the rally of representatives of 17 opposition parties of Armenia was announced.