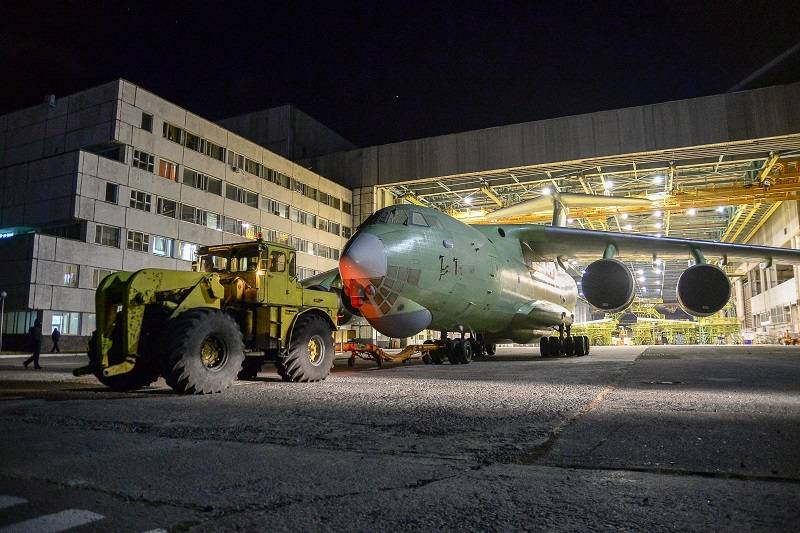 In Ulyanovsk, the next serial military transport aircraft Il-76MD-90A was assembled and transferred for flight tests. This was reported by the press service of the United Aircraft Corporation (UAC).
The new aircraft has already been transferred to the flight test station (LIS), where a number of ground and flight tests will be carried out. After all the necessary tests have been carried out, the aircraft will be painted and handed over to the Ministry of Defense for operation.
Before the transportation of the new aircraft to the LIS, the customer representatives were presented with the results of testing the fuel system and the tightness of the aircraft fuel tanks, carried out its general technical inspection, control of the shape and quality of the outer surface, and inspection of the product for completeness. After that, the work on the production stage of the final assembly was completed.
said the director of the Il-76 and Il-112V programs Oleg Siyanchev.
Note that the delivery of the Il-76MD-90A is delayed. In 2019, Aviastar-SP delivered three Il-76MD-90A military transport aircraft out of five planned for delivery to VTA VKS RF, postponing the delivery of two more to 2020. This year the military was to receive two "last year" aircraft plus six more Il-76MD-90A.
In May 2020, the Ministry of Defense renegotiated the contract for the supply of the Il-76MD-90A with Aviastar-SP JSC on new terms. Under the new conditions, under the old contract in 2012, the plant will now deliver a total of 13 Il-76MD-90A aircraft, and from 2021 a new contract for the supply of 2028 such aircraft will come into force until 14.
The heavy military transport IL-76MD-90A is a profound modernization of the IL-76MD aircraft. The new IL-76MD-90A, unlike the drill IL-76MD, is equipped with PS-90A-76 engines with a thrust of up to 14,5 tons instead of the "standard" D-30KP2 with a thrust of up to 12 tons. The aircraft received a new wing and a "glass" cockpit: the gauges were replaced by instruments with LCD displays. At IL-76MD-90A, the carrying capacity increased to 60 tons and the range of delivery of troops and cargo - up to 5000 km.