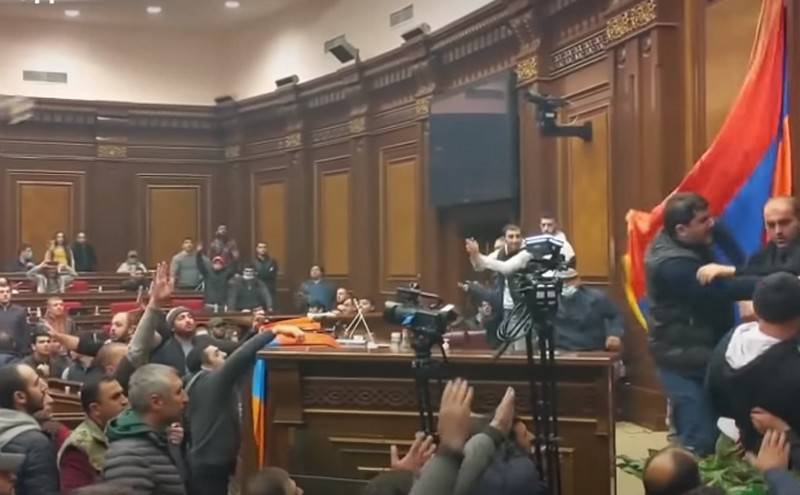 Armenia intends to revise a number of provisions of the "shameful" truce signed by Nikol Pashinyan, this will happen after the change of power in the country. This was stated by the leader of the Hayrenik (Motherland) opposition party Artur Vanetsyan.
According to the opposition leader, they intend to achieve the resignation of Pashinyan, after which they will form a new government of national accord. The new Armenian authorities will already try to improve the conditions of the agreements reached. Vanetsyan called on Pashinyan to voluntarily resign from the post of prime minister.
We must do our best to at least try to improve this shameful agreement. I am sure it will happen. Therefore, I urge the deputies of the ruling faction of Prime Minister Nikol Pashinyan not to cling to power, to leave, to transfer power to people who can provide at least some positive result in this difficult situation.
- he said.
Earlier, Pashinyan said that he was personally responsible for the current circumstances around Nagorno-Karabakh.
Yes, I am responsible for this situation and I will. This is a big setback for us, a big catastrophe, a big mourning for the lost lives, but I believe that Armenia and Artsakh must live, they must strengthen, strengthen, they must reconsider their previous perceptions on various issues.
- he wrote on Facebook.
Recall that numerous demonstrations are taking place in Yerevan, the people are against the agreements signed by Pashinyan on the withdrawal of Armenian troops from the territory of several regions of Nagorno-Karabakh.