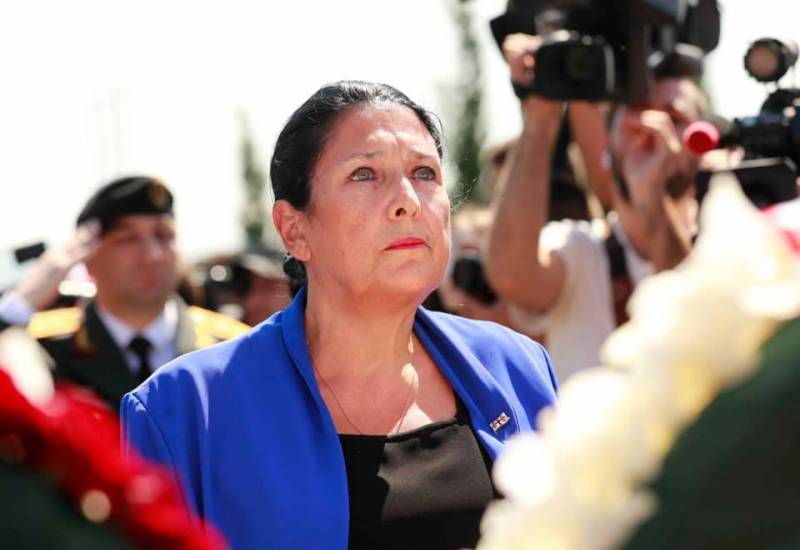 President of Georgia Salome Zurabishvili
The NATO countries cannot work out a common position on the events that took place in Nagorno-Karabakh. We are talking about the signing of an agreement between Armenia and Azerbaijan on peace with the mediation of the Russian Federation and the introduction of almost 2 thousand Russian peacekeepers into Karabakh.
On the one hand, the authorities of the countries of the North Atlantic military bloc declare that they support the end of the armed conflict, but at the same time they cannot unequivocally note that the Russian Federation played a key role in ending this conflict.
French President Emmanuel Macron said that he had already phoned Vladimir Putin and discussed the situation in Nagorno-Karabakh. According to Macron, he is in favor of "Turkey abandoning its provocative actions in the region." The French President added that Ankara should not be hindered by the process that leads to peace in the South Caucasus.
Also, Emmanuel Macron said that today he intends to talk with the Prime Minister of Armenia and the President of Azerbaijan. And then he noted that France supports the Republic of Armenia in this difficult time.
Ankara has not yet commented on the statements of the French president.
Europe reacted ambiguously to the statement of Georgian President Salome Zurabishvili. But what is there in Europe ... In Georgia itself, they react ambiguously, especially against the background of complex political processes in this country after the parliamentary elections. Salome Zurabishvili, commenting on the situation in Nagorno-Karabakh and the introduction of Russian peacekeepers into the region, said that "a new era is beginning in the Caucasus."
President of Georgia:
I congratulate Armenia and Azerbaijan on the end of the war and thank the mediators. The world has no alternative.
In response, Zurabishvili's opponents said that she was "pouring water into the Russian mill." A few comments from Georgian users on social media:
She thanks the intermediaries. That is, she thanks Russia. Wow! And this is Ms. Zurabishvili, who constantly talks about the Russian occupation of part of the territory of Georgia.
Well, yes, a new era - now there are Russian troops in Georgia (apparently, they mean the territories of Abkhazia and South Ossetia, which in Tbilisi continue to be considered their own - note "VO"), Armenia and Azerbaijan.