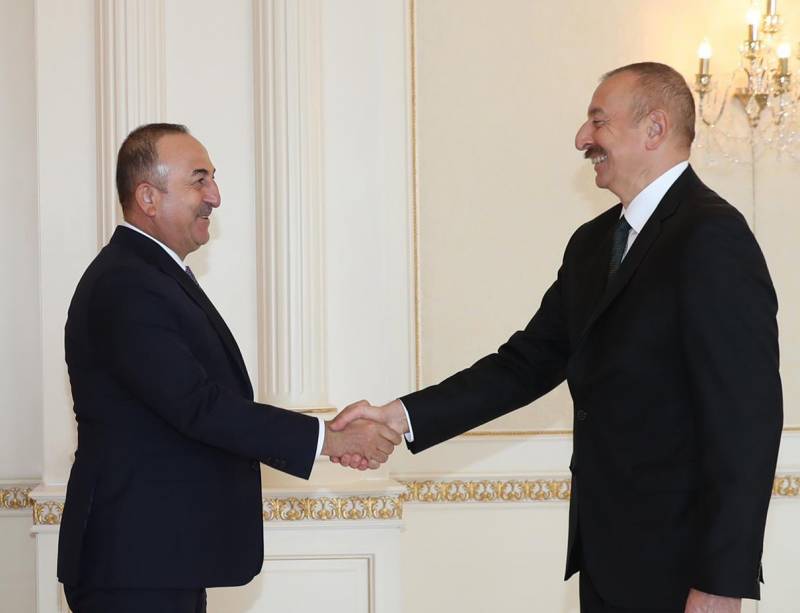 Ankara is reacting to the agreements reached between Baku and Yerevan through the mediation of Moscow. Let us remind that no military operations have been conducted in Nagorno-Karabakh from today. The Russian peacekeeping contingent, as well as Turkish "observers" are being transferred there.
Turkey states that the function of the Turkish representatives in Karabakh will be to monitor the fulfillment by the Armenian side of its obligations to withdraw troops from several regions.
Turkish Foreign Minister Mevlut Cavusoglu, who together with Defense Minister Hulusi Akar visited Baku the other day, announced "a great victory for Azerbaijan." From a statement by a Turkish official:
This is a great victory for Azerbaijan, won both on the battlefield and at the negotiating table.
Cavusoglu further added:
We were and remain one people with Azerbaijan, we have one heart with our Azerbaijani brothers.
From the very beginning of the conflict, Ankara does not hide its support for one of its sides.
Against this background, the head of the unrecognized Nagorno-Karabakh Republic Arayik Harutyunyan noted that the signed agreements "will assess
история
", Adding that today they were badly needed.
According to Harutyunyan, many settlements have already been lost, and the fighting was going on 2 km from Stepanakert. From the statement of the head of Artsakh:
If everything continued at the same pace, then within a few days we would lose all of Artsakh.