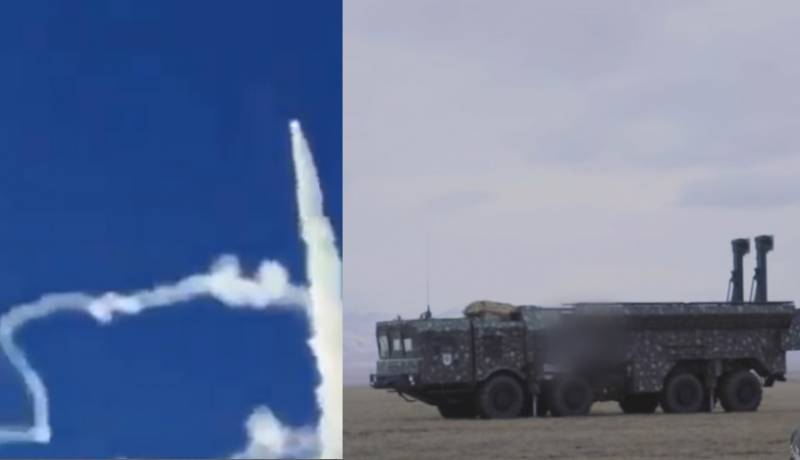 The network discusses footage that appeared several hours before the announcement of the cessation of hostilities in Nagorno-Karabakh. Let us recall that at the moment Russian peacekeepers are being brought into the region.
The cadres under discussion are related to the use of missile weapons by the Armenian army. A special information rush was caused by the fact that statements appeared on the Internet about the allegedly used by the Armenian troops of the operational-tactical missile complex (OTRK) "Iskander", which had previously been acquired from Russia. In particular, the American columnist Joseph Trevithick writes about this. It was noted that the use of missile weapons "took place several hours before the signing of the peace agreement."
From the material in The Drive:
A video has appeared on social media showing that this is apparently the first case of the use of Russian-made Iskander ballistic missiles by Armenia against Azerbaijani troops.
The published footage is extremely muddy, therefore it is impossible to speak for certain about the use of the Iskander OTRK. However, the following is noted:
The missile is difficult to discern, all evidence points to Iskander rather than Armenia's Soviet Tochka and Scud ballistic missiles. In particular, the video shows the launch of two missiles in relatively quick succession. Launchers for Tochka and Scud missiles carry only one missile at a time.
There is no official evidence of the use of Iskander by the Armenian side at this hour. And it is impossible to say exactly when and under what conditions the presented video was filmed.
Fabian Hinz's tweet:
Video of the Armenian Iskander launch pic.twitter.com/keTt7IT2MG

- Fabian Hinz (@fab_hinz) November 9
Earlier, the President of Azerbaijan in an interview with BBC, responding to questions about the shelling of Shushi and Stepanakert, said that for some reason British journalists did not ask the Armenian side about the missile attack on, for example, Ganja.