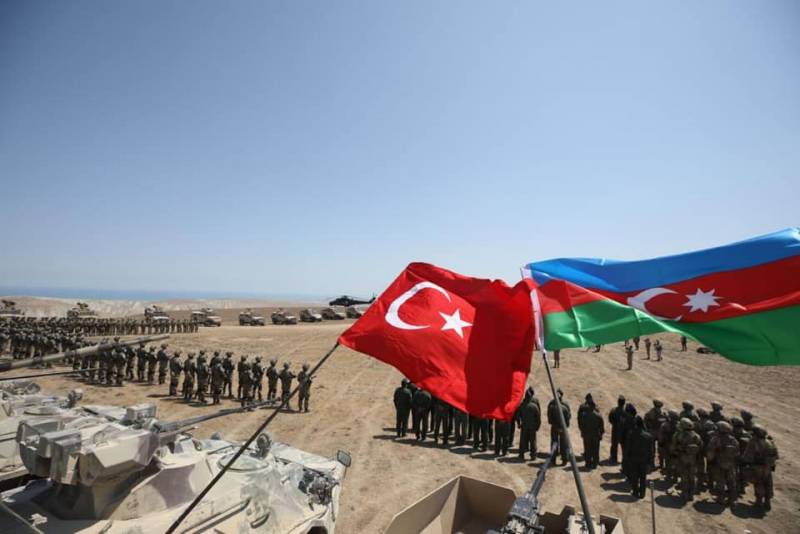 Photos from the joint exercises of the Armed Forces of Azerbaijan and Turkey held earlier
The Russian peacekeeping forces are beginning to develop the territory of their deployment in Nagorno-Karabakh. The war between Armenia and Azerbaijan has been stopped at the moment. The corresponding agreement was reached "with mutual consent" of the parties to the Transcaucasian conflict.
Armenian Prime Minister Nikol Pashinyan, speaking about the agreement, which provides for the withdrawal of Armenian troops from Karabakh, said that this decision was "very difficult for him". It should be recalled that by that time the advance detachments of the Azerbaijani armed forces were already in the vicinity of Stepanakert, from which a mass exodus of the Armenian population began even earlier.
This night, Azerbaijani President Ilham Aliyev said in his address that one of the clauses of the agreement on the cessation of hostilities refers to the introduction of Turkish troops into Nagorno Karabakh, in addition to the Russian peacekeeping contingent, who will interact with Russian peacekeepers.
This statement by Aliyev was preceded by negotiations with the Russian president in the format of a video link.
Aliyev during a conversation with Putin:
I would also like to express my gratitude today to the President of the Republic of Turkey, Mr. Recep Tayyip Erdogan for his active participation in the political settlement of the conflict, and one of the points of today's statement is the joint peacekeeping mission of Russia and Turkey. Thus, we are creating a completely new format of interaction in the region, not only within the framework of the conflict settlement, but also for future development.
Full video version of the talks between Vladimir Putin and Ilham Aliyev:
It is worth recalling that earlier President of Turkey Erdogan called Putin, who proposed the coordination of Russian-Turkish actions in Karabakh according to the same principle by which such interaction takes place in Syria. If the entry of the Turkish military into Karabakh takes place, then we can say that Erdogan's proposal in one way or another was ultimately accepted by the Kremlin.