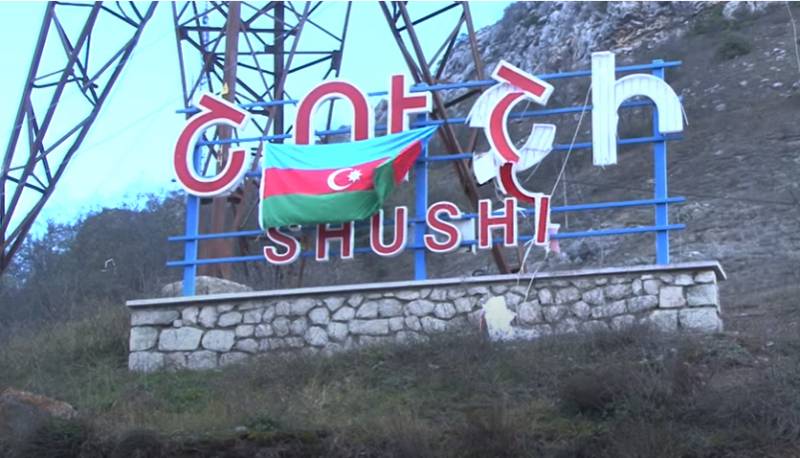 Shots from Shushi
The Ministry of Defense of the Republic of Armenia reports that the troops of the unrecognized Nagorno-Karabakh Republic have succeeded in several directions. In particular, it was announced that the Armenian side would stop the Azerbaijani troops in the area of ​​the Krasny Bazar settlement.
It is also reported about the successful actions of the Armenian troops in the area of ​​the settlement of Karin Tak (Azerbaijani name - Dashalti). The village is located not far from Shushi.
At the same time, footage from a drone belonging to Armenian troops is shown. The footage shows the positions of Azerbaijani troops with military equipment. The Azerbaijani military is stationed on the road that passes through the top of one of the local heights. At one point, these positions begin to come under intense fire.
The drone, obviously, also performed the functions of aiming fire. This tactic was used by the Azerbaijani armed forces from the beginning of the new phase of the armed conflict.
Against this background, the Ministry of Defense of Azerbaijan publishes footage, the caption to which reads the following: "Video footage from the city of Shushi liberated from occupation."
The state flag of Azerbaijan appeared at the entrance to the city where the sign "Shushi" (in Latin and in Armenian) is located. Today the Republic of Azerbaijan celebrates the day of the state flag, and the capture of Shushi, as they did not hide in Baku, was "timed" to this very date. At the same time, President Aliyev announced the capture of Shushi the day before. But the video was only published now.
Shooting of Shushi is carried out from a car, as well as "stationary". Several Azerbaijani special forces and the empty streets of the city are visible. Official Yerevan has not yet commented on these shots. It should be reminded that just a few hours ago the mayor of Shushi announced that the city would remain Armenian.