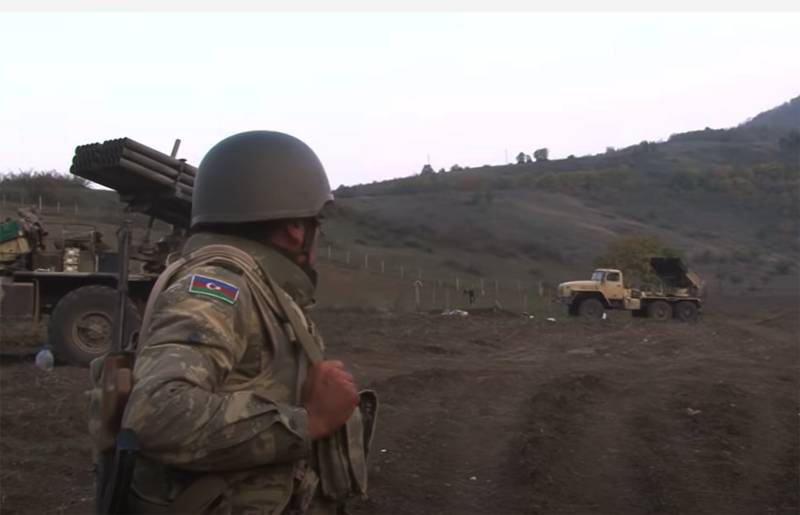 The Ministry of Defense of Azerbaijan, which reported to President Ilham Aliyev the previous morning about the capture of the Karabakh city of Shushi under its full control, today writes that the Azerbaijani army is fighting in the surrounding settlement. The city of Shushi (Shusha) is called the key city of Nagorno-Karabakh, which can make it possible to enter the operational space and advance to Stepanakert.
It is important to note that the reports of the Ministries of Defense of Azerbaijan and the unrecognized NKR by now have finally turned into diametrically opposite ones. Some time ago, Voennoye Obozreniye published data provided by the Nagorno-Karabakh military department. The report says that the NKR army is carrying out the destruction of the Azerbaijani units surrounded in the Shushi region.
A few minutes ago, the Azerbaijani military department issued a material, which states that it is the Azerbaijani army that is carrying out the destruction of the surrounded Armenian troops near Shusha.
From the summary of the Ministry of Defense of Azerbaijan:
An operation to destroy the encircled enemy forces in the Shushi region. On November 9, drone UAVs destroyed one tank and one infantry fighting vehicle of the Armenian armed forces, which attempted to attack our units in order to break out of the encirclement near the village of Zarysly on the Lachin-Shusha road.
Below are the footage presented by the Azerbaijani side:
Meanwhile, Armenian Defense Minister Artsrun Hovhannisyan said during a briefing that Azerbaijani attempts to advance in the Martakert and Martuni directions had failed.
It is quite obvious that it becomes very difficult to navigate in reports when each side declares its victories and endless defeats of the enemy. One thing is clear: the hostilities in Karabakh continue, the situation for the NKR troops is extremely difficult, but at the same time the Azerbaijani troops also clearly had problems in capturing not only Shushi, but also the so-called Berdzor (Lachin) corridor.