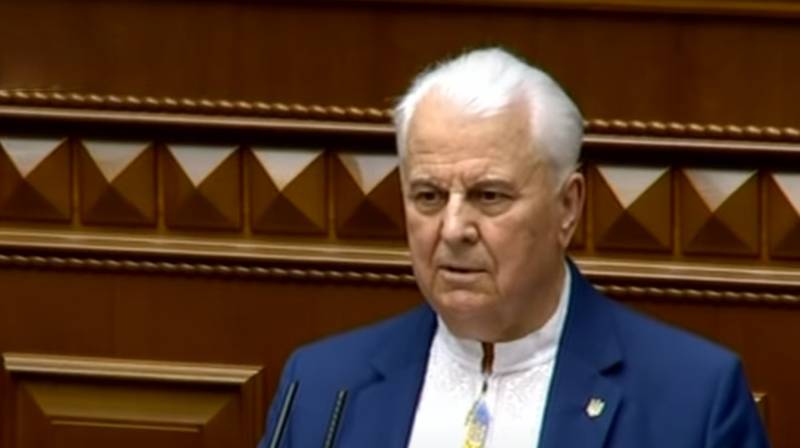 Former President of Ukraine Leonid Kravchuk, who is the head of the Ukrainian delegation as part of the so-called Trilateral Contact Group (TCG) on the settlement in Donbass, gave another interview about the negotiation process.
According to Kravchuk, it is necessary "to close the Minsk process if Ukraine continues to be led by the nose on it." Kravchuk added that he would persuade "his own" to look for new international formats for discussing the issue.
The first president of Ukraine added that for Kiev "peace is the most important thing", and Kiev itself in the Minsk format "hears only accusations from the other side."
At the same time, Kravchuk pointedly added that in this case he expresses his personal opinion, and not the opinion of the current president of Ukraine.
In an interview with TC "Ukraine 24", Kravchuk's theses were further developed by the adviser of the Ukrainian delegation to the TCG Alexey Arestovich. According to him, Russia "must accept an updated Ukrainian plan" for the settlement in Donbass. Arestovich added that "the Russians must understand that the work of the contact group can be blocked if the Ukrainian plan is not adopted or a compromise plan is not worked out on its basis."
Returning to the statements of Kravchuk, which are published
TASS
, now Ukraine insists on changing the order of items in the Minsk agreements. The ex-president said that "a lot has changed since 2015, and therefore requires changes in the document on agreements."
It turns out that Ukraine is always ready to ignore the agreements, and then demand their revision, since "a lot has changed since their conclusion." Interesting logic ...
Kravchuk a few days earlier (in another interview with Ukrainian media):
Donbass should not be cut off, but returned.
Meanwhile, shelling resumed in the Donbas. The Armed Forces of Ukraine are shelling the territory of the DPR in several directions, including Donetsk.