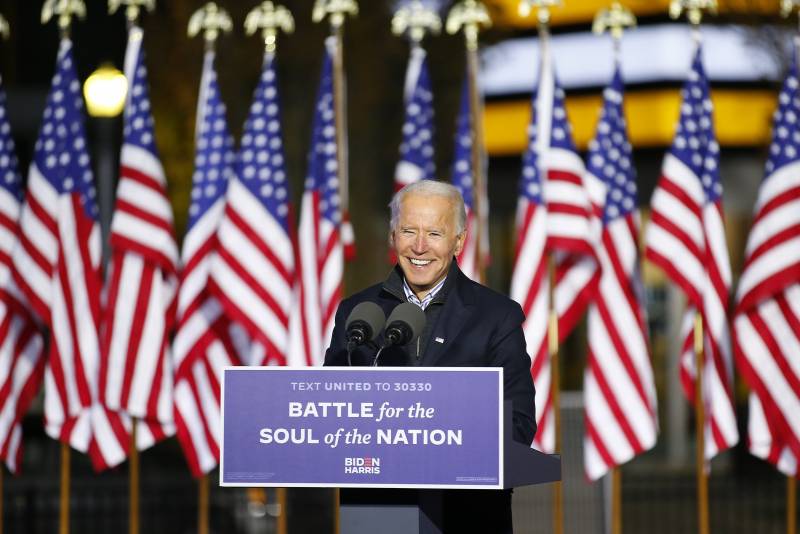 In the United States (and in fact throughout the world), an active discussion of the results of the American presidential election continues. According to the latest data, Joe Biden is already gaining 290 electoral votes with a result of 214 votes from Donald Trump. At the same time, about 75 million voters voted for Biden, about 71 million for Trump. Biden has actually made a presidential speech to the nation, but Trump has not made any declarations of his defeat for the moment, promising to resolve issues through the courts.
Meanwhile, some analysts believe that the current situation in the United States is such that any candidate in the elections would be better off losing. In particular, it is indicated that the country is in a crisis unprecedented since the Great Depression. And it's not only about an economic crisis associated with a pandemic, it's about a high level of social tension, uncertainty in the political institutions of the United States.
From comments in the American blogosphere:
If Trump rests a little after the election race and weighs the pros and cons, he will soon realize that any candidate is better off losing in this election. The prospects for the President 2021-2024 are too vague.
Does Biden understand what he has to face now? If he decided to fight the pandemic, will he have to go to a full lockdown? And there is no certainty that this will lead to a result in the absence of a vaccine.
It was also noted that if the United States does not soon have its own vaccine, then "Biden will have to buy it from Putin or President (PRC) Xi (Jinping)."
It also added that Biden will have to deal with the BLM movement, which is clearly not going to give up its positions.
Memes and cartoons appear on the network mocking the fact that Joe Biden won the election not thanks to his political talents, but thanks to the media, which have recently shown particular activity in favor of the Democratic Party candidate. How correct is the presence of Fox News in this meme is a question, but the author of the cartoon conveyed the essence of the cartoon very accurately, according to experts in the field of PR.