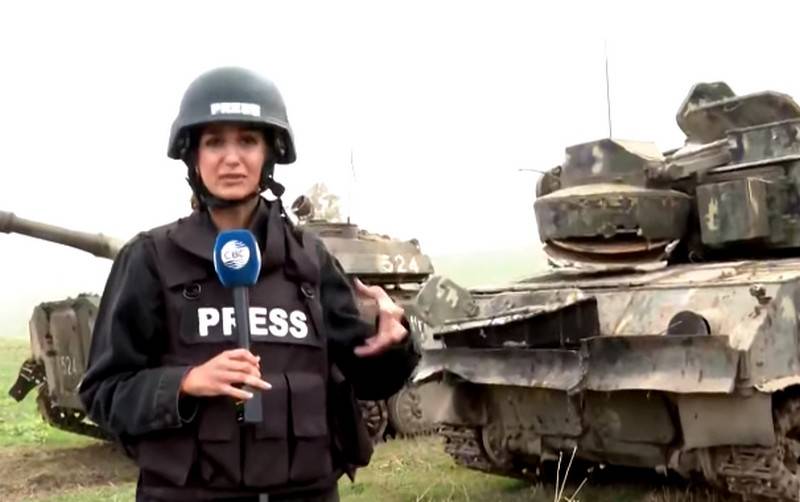 Azerbaijani television continues to show reports from the territory of Nagorno-Karabakh from villages "liberated from occupation". In another report, the Azerbaijani TV channel showed the abandoned and destroyed equipment of the Nagorno-Karabakh Defense Army left in the Fizuli region. It is reported that the Azerbaijani army managed to break into the Armenian defense.
At the same time, the President of the country Ilham Aliyev announced the capture of 16 more settlements in the territory of Nagorno-Karabakh under the control of Azerbaijani troops.
The valiant Azerbaijani army liberated the villages of Yukhari Veyselli, Yukhary Seyidakhmedli, Gorgan, Uchunchu Mahmudlu, Gajar, Divanlylar of Fizuli, Yukhary Mezre, Yanarhadj Jabrail, Gazyan, Balasoltanli, Merdanly, Baqadalghaqtal, Khobadalguta, Gubadalgut,
- wrote Aliyev on Twitter.
Baku denied the statements of Yerevan about the shelling of Shushi in Karabakh, stating that no shelling was carried out in this direction. At the same time, it is argued that the main hostilities were fought on the Agderin, Aghdam and Khojavend areas of the front, where the Armenian forces were forced to retreat due to heavy losses in personnel, leaving their positions.
Information about periodic shelling of the city of Shusha by the Azerbaijani army is completely untrue
- it is spoken in the message of the Ministry of Defense.
In turn, the Defense Ministry of the unrecognized NKR reported about stubborn battles on the night of Friday to Saturday. According to the report, the NKR defense army repelled numerous attacks of the Azerbaijani side on the city of Shushi.
Stubborn and intense battles took place at night in the Shushi-Karintak sector. Army units of Karabakh successfully suppressed numerous attacks of the enemy, who suffered heavy losses in manpower
- said in Stepanakert.