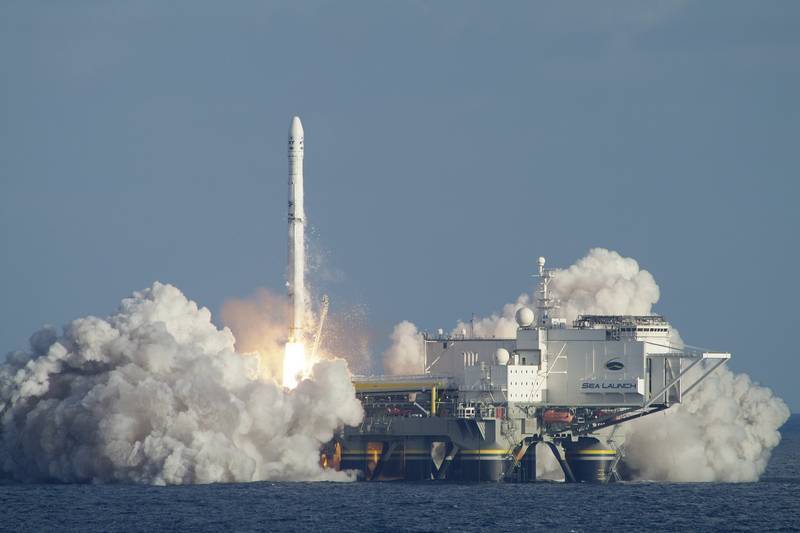 The floating cosmodrome Sea Launch, in respect of which a decision has been made to restore, can be permanently installed in Vladivostok. About this in an interview with RIA
News
said a member of the collegium of the Russian military-industrial complex, in charge of the rocket and space industry, Alexander Ivanov.
According to Ivanov, the Ulysses Bay near the bridge to the Russky Island in Vladivostok can become a permanent parking lot of the floating cosmodrome. The company-owner of the "Floating Launch" has been offered several locations for the deployment of the cosmodrome in the Far East.
In the Far East, S7 offered the opportunity to consider five or six bays, in which the complex can be installed on a permanent basis. One of the main ones is Ulysses Bay near the bridge to Russky Island. It's not a shame to put such a project there
- he said.
Also, the points from which it is possible to carry out launches from the floating cosmodrome have already been selected.
One of the points is next to the Kuril Islands during launch into sun-synchronous or polar orbits. It is not required to carry the complex to the equator
- he added.
Earlier, the specialists of the S7 group of companies, which own the cosmodrome, estimated the costs of restoring launches from the Sea Launch floating cosmodrome at 29 billion rubles, of which 15 billion will be spent on repairing and modernizing the launch platform and creating a new light rocket. At the same time, it was clarified that another 14 billion rubles had already been spent. They went to buy a floating spaceport, transport it to Russia and solve other problems associated with the project.
The Sea Launch floating spaceport consists of the Odyssey floating launch platform and the command vessel. The international company Sea Launch was founded in 1995 with the participation of the Russian RSC Energia, the American Boeing company, the Norwegian Kvyarner, as well as the Ukrainian enterprises Yuzhnoye and Yuzhmash, which produced the Zenit-rocket for the cosmodrome. 3SL ", the only one adapted for launch from a sea launch site. A total of 36 launches were made, of which 33 were successful.
In 2014, the last missile was launched, as Russia stopped supplying components for rocket production, including RD-171 rocket engines, to Ukraine.
At present, Sea Launch is at the Slavyansk Shipyard, awaiting the start of restoration work.