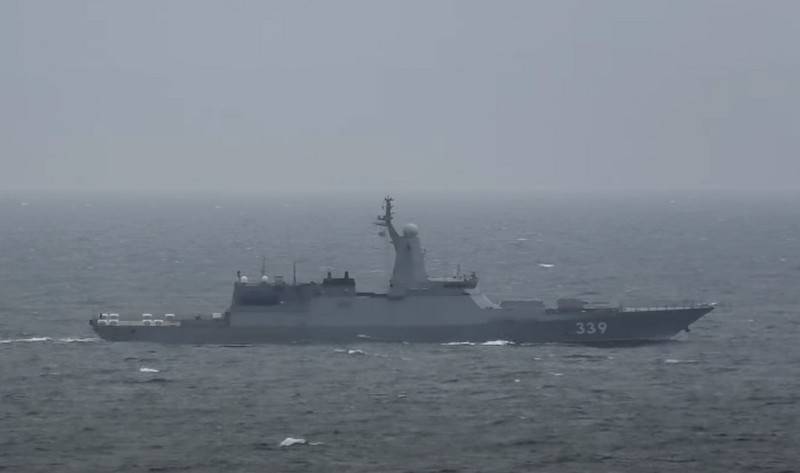 Built for the Pacific
fleet
the newest corvette "Hero of the Russian Federation Aldar Tsydenzhapov" began testing the ship's weapons systems. According to the press service of the Pacific Fleet, the ship sailed into the waters of the Sea of ​​Japan.
In the Sea of ​​Japan, at one of the Pacific Fleet's sea ranges, the corvette Aldar Tsydenzhapov began testing the ship's artillery systems, as well as jamming systems using a 122-mm PK-10 launcher. Tests of the ship are provided by Tu-142 and Il-38 Marine
aviation
Pacific Fleet. The next stage of testing will be testing anti-submarine
weapons
and anti-ship missiles "Uranus".
The crew, together with the delivery team, checks the reliability of the ship's artillery systems. Today, the corvette conducted regular test firing at sea and air targets from the 100-mm universal ship gun mount A-190 and the six-barreled automatic gun mount AK-630
- said in a statement.
The newest corvette entered the factory sea trials at the end of September. The transfer of the corvette to the Pacific Fleet will take place until the end of 2020.
The project 20380 corvette "Hero of the Russian Federation Aldar Tsydenzhapov" was laid down in Komsomolsk-on-Amur on July 22, 2015, on September 12, 2019, brought out of the slipway into the outfitting and transport-launching floating dock, on October 21, 2019, physically launched from the dock. On May 25, 2020, it entered the Zeya transport floating dock for transportation to Vladivostok, where it was delivered in mid-June.
Project 20380 corvettes are classified as 2nd-class multipurpose combat surface ships of the near sea zone. At the same time, NATO considers project 20380 too large for corvettes, and defines them as frigates. Project 20380 was developed by the Almaz design bureau.