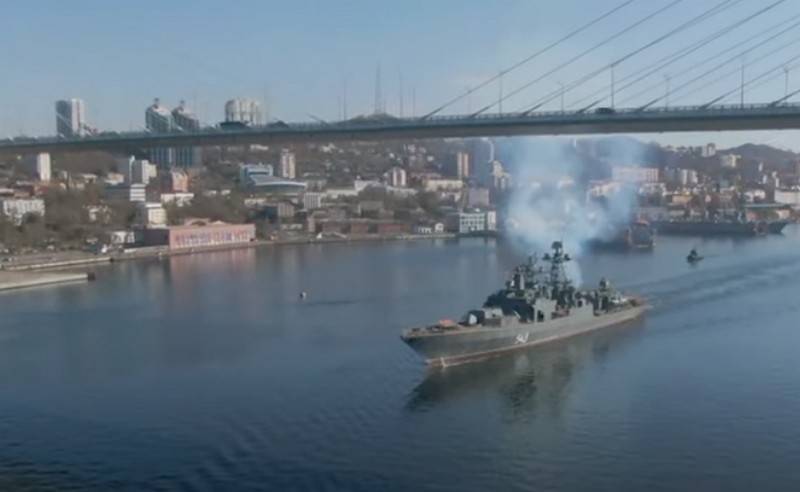 The former Project 1155 large anti-submarine ship (BOD), re-qualified as frigates "Marshal Shaposhnikov", began preparations for the final stage of testing. According to the press service of the Ministry of Defense, the ship was brought into dry dock.
The frigate Marshal Shaposhnikov, which underwent a major overhaul with modernization, was brought into the dry dock of the Dalzavod Ship Repair Center in Vladivostok on Friday, November 6. Before entering the final stage of testing, the ship will have to final painting of the underwater part of the hull and its revision, as well as checking the bottom and outboard fittings.
Before that, Marshal Shaposhnikov made three trips to the Pacific Fleet's sea ranges in the Sea of ​​Japan, where the ship's crew, together with the delivery team, checked the operation of the power plant, steering gear, auxiliary mechanisms, communications, detection and navigation equipment.
As previously reported, the former BOD of project 1155 "Marshal Shaposhnikov" in the summer of 2019 was retrained as frigate. This decision was made by the Ministry of Defense.
In the course of modernization, Marshal Shaposhnikov installed the Uran anti-ship complex with X-35 missiles, a universal launcher for Kalibr, Onyx or Zircon cruise missiles, a Bagira universal naval artillery fire control system, a ship complex electronic suppression TK-25, the bow artillery mount was replaced. More than 20% of the ship's superstructure were dismantled and re-manufactured, the hull was repaired, and other works were carried out.
As previously reported in the press service of the Pacific Fleet, the frigate will return to
fleet
before the end of this year.