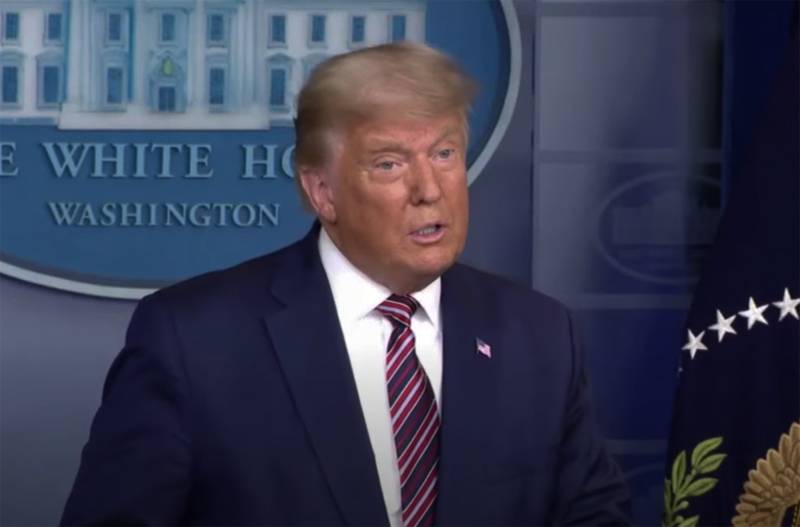 US President Donald Trump, after more than a day's absence "in the public field", made a statement that is being actively discussed both in the States themselves and abroad. Trump commented on the situation that develops during the counting of votes. At the same time, the current president accused the opponent and his staff of massive falsifications.
Trump announced that he won the presidential elections held on November 3 "with
historical
record ".
Trump:
And this leadership is undeniable. It can only be questioned by those who hope for illegal votes. They (representatives of the US Democratic Party) may try to steal our victory from us.
The following fact is noteworthy: many major US channels broadcasting Donald Trump's speech began to block videos or cut out fragments where he declares his victory in the presidential elections. The footage with Trump's speech was stopped by the MSNBC channel and a number of other major information platforms.
According to Trump, "election results can be stolen by those who choose to encroach on basic democratic principles in the United States." The Trump headquarters added that the victory of the opponent in this situation is possible "only if they expect that massive fraud will be ignored."
Recall that in the past elections, the vote of many Americans was established, who died long before November 3, 2020. Massive ballot stuffing was also revealed. In several states, graphs were shown, on which at one time Joe Biden had plus 100-120 thousand votes. They try to explain the latter by the fact that it is a "packet of processed data during voting by mail." But in this case, the counting commissions will have to explain why all the processed ballots that arrived in the mail turned out to be for Joseph Biden.
At the moment, in a number of states, the counting of votes has been suspended. The remaining alignment: 214 to 264 (according to electoral votes) is not in favor of Trump.