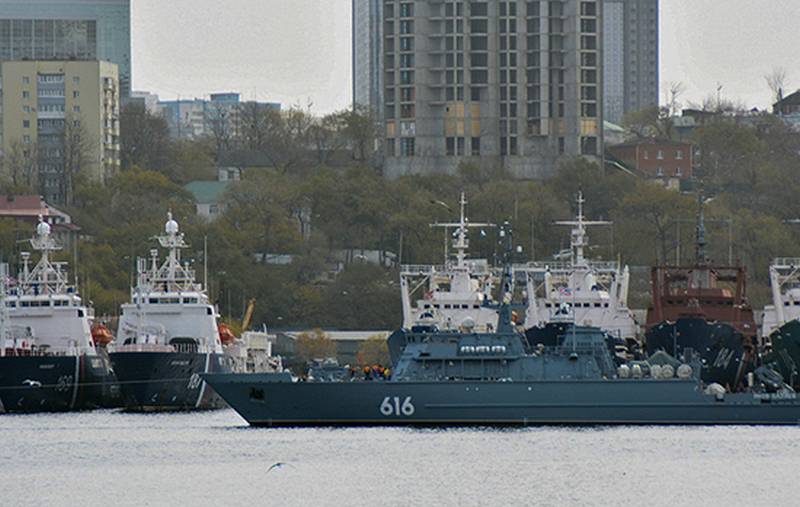 The newest mine-sweeping ship "Yakov Balyaev" of project 12700, which arrived in Vladivostok for testing, began preparations for entering the factory sea trials. According to the press service of the Pacific Fleet, the stage of mooring tests is being successfully completed.
The minesweeper, which passed the Northern Sea Route and arrived in Vladivostok on October 22 of this year, is currently at the pier of the outfitting base of the Amur shipyard in the Golden Horn Bay. On board the ship there is a crew and a handover team preparing for going to sea for factory sea trials.
The timing of the completion of the tests has not yet been reported, but according to the plans of the Navy, the minesweeper should become part of the Pacific Fleet by the end of the year.
Marine minesweeper "Yakov Balyaev" is the fourth serial (fifth in a row) ship, which was laid down on the stocks of the plant, however, due to a fire on the first serial minesweeper "Georgy Kurbatov", "Yakov Balyaev" became the fourth mine defense ship in the line of project 12700 "Alexandrite". Laid down on December 26, 2017, launched on January 29, 2020. Named in honor of the Hero of the Soviet Union, sailor, light machine gunner of the 355th separate battalion of the Pacific Marine Corps
fleet
Yakov Illarionovich Balyaev.
Minesweepers of the 12700 project are able to use the latest hydroacoustic stations located both on the ship itself and on remote-controlled and autonomous underwater vehicles, and they have an automated mine action control system. Able to use traditional and traditional weapons. The ships of the Alexandrite series have a unique hull made of monolithic fiberglass, formed by vacuum infusion.