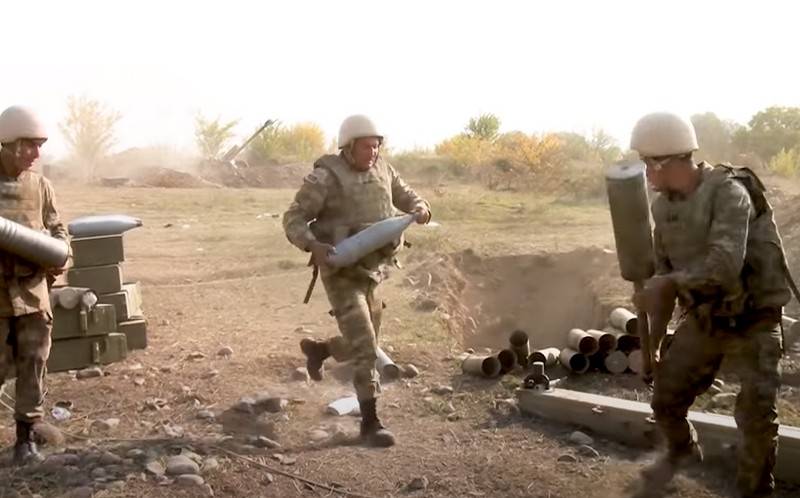 The fighting on the line of contact in Nagorno-Karabakh continues, the parties to the conflict continue to accuse each other of shelling settlements and civilians. According to the Federal Agency
News
On the 39th day of the military confrontation between the Azerbaijani army and the Artsakh (NKR) defense army, Azerbaijani army units continue their offensive in several directions.
According to reports, Azerbaijani units continue their offensive on the mountain-forest plateau south of Shushi, seeking to encircle the city or seize it. Two or three battalions operate in this direction with a minimum number of armored vehicles, this is due to the inaccessibility of the terrain. At the same time, Azerbaijan has very strong air support, and long-range rocket artillery is also working well.
Despite the relatively small number of Azerbaijani forces, the situation on the Armenian side is no better. To the shortage of personnel, strongly stretched along the front line, are added large losses of armored vehicles and artillery due to the actions of enemy drones.
Reportedly, at the moment, to the south-west of Shushi and in the area of ​​the Red Bazaar, separate assault groups of the Azerbaijani Armed Forces have become more active, conducting offensive operations. The DRG of the Azerbaijani army was spotted in the area of ​​the village of Karintak. The Armenian army is carrying out a number of measures aimed at countering the DRG and the enemy's offensive.
The most stubborn resistance is offered by the NKR defense army near the Red Bazaar, since in this area the enemy is trying to block the road to Martuni.
In the northern direction, Azerbaijani units allegedly managed to reach the Sarsang reservoir, the battles are taking place near the villages of Kheyvali and Umudlu. There is also information about attempts by Azerbaijani troops to pass through the Mrovdag ridge and reach Kelbajar. If the offensive and withdrawal of the Karabakh army is successful, the NKR will lose contact with Armenia.
In the southern direction, the situation is relatively calm, the NKR army holds positions south of Lachin. Here, Baku is most likely simply imitating attempts at an offensive, with the aim of pulling off the Armenian reserves. At the same time, permanent Armenian DRGs operate in this sector in the rear of the Azerbaijani army, preventing them from raising reserves.
Meanwhile, the Committee for Emergency Situations of the unrecognized Nagorno-Karabakh Republic accused Azerbaijan of shelling the cities of Shushi and Martuni. The NKR Defense Ministry, in turn, announced attempts to attack the Azerbaijani army in all directions during the night.