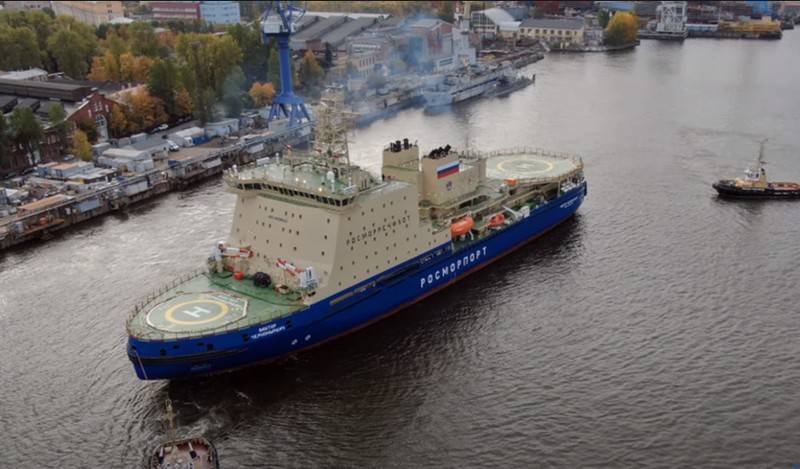 The most powerful diesel-electric icebreaker "Viktor Chernomyrdin" of project 22600 was handed over to the customer. The solemn ceremony took place in St. Petersburg on the territory of the Marine Facade passenger port.
Russian President Vladimir Putin took part in the ceremony of raising the state flag of the Russian Federation on the new icebreaker.
We are all going through difficult times, we talk about it every day. But a pandemic is a pandemic, and life goes on. And we are moving forward, not postponing our plans until later. And today we are present at a very pleasant and important, significant event. The national flag of our country has just been raised on a new linear diesel icebreaker. The world's most powerful icebreaker of this class
- said the Russian leader.
Reportedly, the icebreaker, built for work on the Northern Sea Route, will operate in the Baltic Sea, providing uninterrupted pilotage of ships in the Gulf of Finland. His participation in expeditions is not excluded.
The icebreaker of project 22600 was built by order of the FSUE "Rosmorport" according to the contract signed with USC in December 2011. The icebreaker was laid down at Baltic Shipyard-Shipbuilding LLC on October 10, 2012. According to the plans of shipbuilders, the icebreaker should be commissioned in 2015, but in 2013 the construction was stopped due to gross errors during the development of the design documentation for the vessel, as a result of which the design overweight on the mass of the icebreaker was about 2,5 thousand tons.
The construction of the icebreaker for the redesigned project was resumed at BSZ only in the second half of 2016, and in September 2017, the icebreaker Viktor Chernomyrdin of the 22600 project (LC-25) was transferred for completion afloat from Baltiysky Zavodostroenie LLC to the opposite shore Neva on the JSC "Admiralty Shipyards". The reason for this was the workload of the BSZ on the construction of the 22220 project icebreakers (LK-60Я).
However, the misfortunes did not end there: in November 2018, a fire occurred on the vessel under construction, as a result of which part of the icebreaker equipment was damaged. The consequence of the fire was another shift in the delivery of the icebreaker to the right due to damage to imported equipment, which was being replaced in Korea and Europe.
The length of the icebreaker is 142,4 meters, the width is 29 meters, the displacement is 22 tons, the speed is 258 knots, the autonomy is 17 days, the thickness of the ice to be overcome is 60 meters, the crew is 2 people.