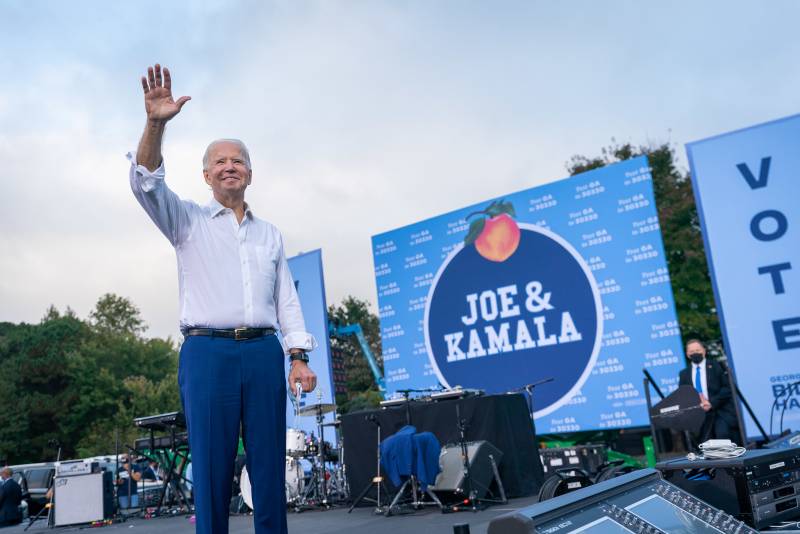 Analysts of the world markets are cautiously predicting the victory of Joseph Biden in the elections. In favor of just this alignment is the dynamics of quotations of the main stock indices. As noted by financiers, world markets "anticipate the victory" of the candidate from the Democratic Party, which is "confirmed" by the growth of quotations.
So, for two days in a row, the main stock indices are growing not only in the United States, but also in Europe. Indicates a moderate growth in the performance of such large financial groups as Barclays, Standard Chartered and NatWest, which have become leaders in the London stock exchange FTSE 100. Average growth - 1,7%. The stock index of the German Frankfurt shows an increase of 1,8%, the Paris CAC 40 - 1,9%. Growth of quotations of the S & P 500 is expected today at 1,6% "at the opening", Nasdaq - up to 1 percent.
Hong Li, Head of Quantitative US Equity Strategy at Citigroup:
This suggests that the stock market considers Biden's chances of winning the election preferable.
Financial strategist at Mizuho Bank (Hong Kong) Ken Chung:
Market participants are increasingly convinced of Joe Biden's victory. Additional confirmation of this that now Biden's electoral gap is greater than the gap between Hillary Clinton and Donald Trump in 2016. And now Trump will find it difficult to count on an unexpected victory.
At the same time, no one at Trump's headquarters said at all that the victory of 4 years ago was unexpected for them. Trump's team consisted of professionals who structured the race strategy in such a way that the outcome was discouraging for the Democratic Party, including Hillary Clinton.
Another "sign" of Biden's final victory in the US elections, international experts believe ... the Chinese yuan. In the past few days, the PRC currency has appreciated against the dollar, which, according to financiers and market analysts, suggests that China "expects Biden to win." If so, then the logic is not clear: does this mean that if China "expects" Biden's victory, then Biden will certainly win? ..
Meanwhile, the Henderson Foundation said that if the United States obtains "a result contested by one of the candidates, then there will be uncertainty that could bring down the markets."
Recall that in 2016 the majority of Americans voted for Hillary Clinton, but in terms of the number of electoral votes, Donald Trump won.