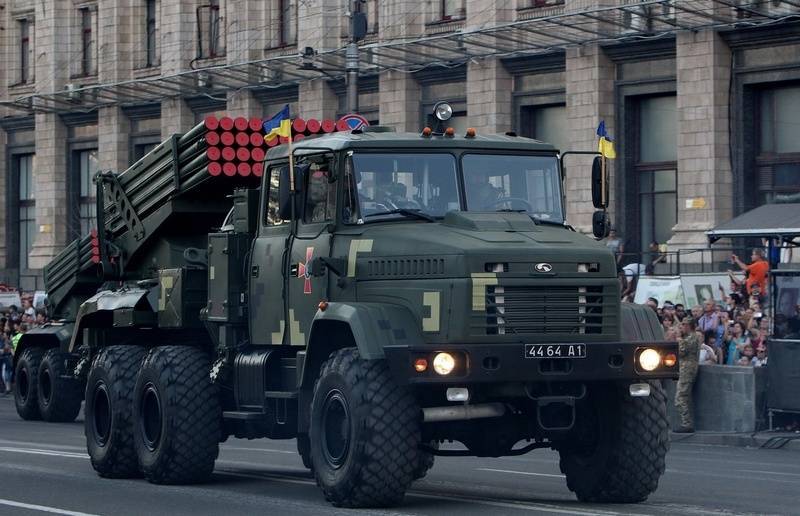 The Armed Forces of Ukraine APU) are awaiting the arrival of the new multiple launch rocket system (MLRS) "Verba" in the troops. This was announced by the head of the missile forces and artillery - the head of the MFA Directorate of the Training Command of the Command of the Ground Forces of the Armed Forces of Ukraine, Major General Andrei Malinovsky.
According to the general, the state tests of the Verba MLRS have been carried out, and the issue of making an initial batch of the system and its delivery to the troops is currently being resolved.
State tests of the "Verba1" model have been carried out. Measures are underway to adopt BM21U "Verba" into service, issues of manufacturing a pilot batch are being addressed
- explained Malinovsky.
The fact that the Verba MLRS was adopted by the Armed Forces of Ukraine was reported a year ago, in November 2019. At the same time, the Ministry of Defense of Ukraine announced that the first full-time units were being formed, which would receive this system. Serial production was planned to be launched at the state enterprise "Shepetivka Repair Plant".
As previously reported, the new Ukrainian MLRS Verba is a modernized Soviet 122-mm MLRS 9K51 Grad. The modernization was developed by the Kharkov Design Bureau. A. Morozova. According to the developers, the MLRS is equipped with digital systems that allow the crew to control fire, aim and control the reload process in automatic mode, without leaving the cab. Ammunition consists of 40 rockets of the caliber 122 mm with a range of destruction of targets up to 40 km. Recharging a full package takes up to 10 minutes.
According to the statement of the Ukrainian military department, the MLRS vehicles are equipped with modern digital communication systems for the secure transmission of information.
In April of this year, in the Odessa region at the Alibey training ground, the second stage of testing of 122-mm Typhoon-1 rockets of Ukrainian design took place. According to the General Staff of the Armed Forces, the new missiles developed at the Yuzhnoye Design Bureau (Dnepropetrovsk) are intended to replace the 122-mm standard shells of the Ukrainian MLRS Verba and Berest. The maximum firing range is declared at 40 km, the ammunition is equipped with a high-explosive fragmentation warhead weighing 18,4 kg.