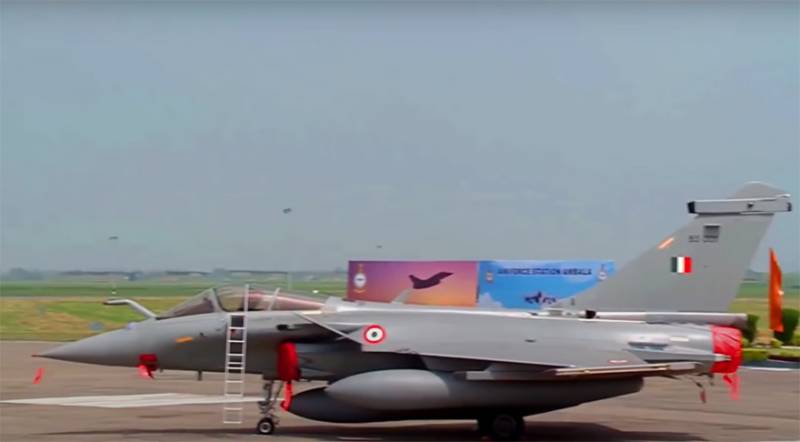 Tomorrow, on November 4, another batch of French-made Rafale fighters is to arrive in India. These aircraft were supposed to enter service with the Indian Air Force in the summer, but sanitary-epidemic restrictions were introduced into the process.
The Indian Ministry of Defense reports that, unlike the previous logistics route, the new Rafale group will arrive in India without a transit stop in the UAE. Recall that last time the fighters, having taken off from France, landed at the Al-Dhafra airfield in the United Arab Emirates. After replenishing fuel supplies and resting the pilots, they went to India.
This time a transfer is planned without intermediate landings. In flight, the fighters will refuel French Air Force air tankers.
Experts are discussing what could be the reason for such a decision. Some suggest that the reason was the desire to test the capabilities of both the Rafale themselves for a long flight and military pilots. Others have a different point of view: it is indicated that the French are afraid of attacks by radical Islamists in the UAE if the fighters land at the transit airfield. Attacks by radicals are not ruled out due to the fact that the reaction to the scandalous work of the French publication Charlie Hebdo and the events that followed the recent massacre of the French teacher is gaining momentum in the world.
There is also an alternative version about the reason for the non-stop flight of the new four Rafale fighters. The Eurasian Times notes that "there is a fear of an attack from Iran." At the same time, the reference goes to the events of July, when the CNN channel announced alarms in Al-Dhafra and Al-Udeid in connection with the fact that "the Iranian missile may have flew in the direction of these air bases." The issue of why Iran should now strike at French aircraft bought by India while they are at the base in the UAE is not considered in the publication.
After receiving the second batch of "Rafals" in the Indian Air Force, there will be eight. In total, India has ordered 36 such fighters from Paris.