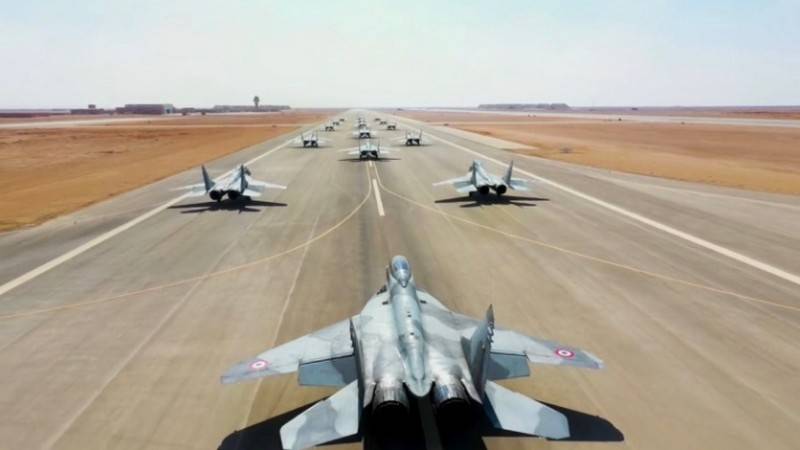 At the end of October, it became known about the delivery of the first batch of MiG-29M fighters to Algeria. In this regard, the Western media tried to assess the combat potential of the Russian vehicle.
Extensive modernization
The order for the MiG-29M squadron (14 units, including the two-seat version of the MiG-29M2) under a comprehensive contract was issued in September 2019. They are designed to partially replace the MiG-29 (version 9.13), which were purchased from Belarus and Ukraine in the early 2000s.
MiG-29M is the most efficient variant of the MiG-29 design
- writes about this edition of Military Watch (USA).
This model is in service only with Algeria and Egypt, not counting a small number of vehicles in the Russian military
aviation
.
This aircraft is an extensive upgrade of the most advanced medium-weight fighter of the Cold War, the MiG-29A.
- noted in the American press.
Unlike other upgraded variants, such as the MiG-29SMT recently delivered to Syria, or the MiG-29UPG ordered by India, the MiG-29M is equipped with a new airframe with advanced composite materials (making it stronger and lighter) and has a completely different appearance. ... The new RD-33MK engine with 7% increased thrust combined with a lighter fuselage compensates for the added mass, which has increased by accommodating more fuel. As a result, the aircraft has a significantly greater flight range compared to the old versions of the MiG-29.
With an emphasis on ranged combat and low cost
According to the publication, the MiG-29M was created with a great emphasis on long-range combat and is usually equipped with X-35 cruise missiles and R-77 air-to-air radar missiles. The MiG-29's electronic systems are the most up-to-date [apparently for Russia], with the Zhuk-ME radar providing a high degree of situational awareness, while the cockpit benefits from new helmet-mounted displays as part of the HOTAS system.
This purchase is not considered costly, since the fighter is one of the cheapest offered by Russia, and its operating costs are lower than the old MiG-29 variants already in Algerian service.
- indicates Military Watch.
According to the publication, there is a possibility that Russia will buy out the old Algerian MiG-29s, since Moscow had previously offered to purchase used aircraft from customers buying new fighters from it.