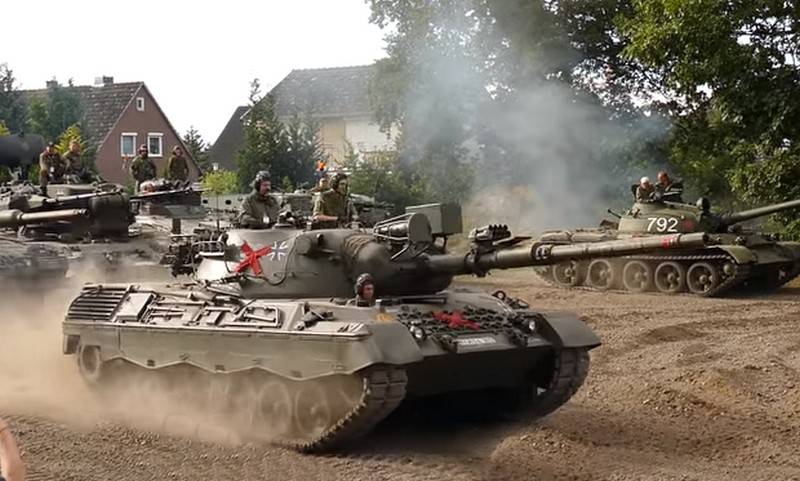 The North Atlantic Alliance announced the completion of the demilitarization process of half a thousand
tanks
"Leopard". Quotas for the number of military equipment in different countries are regulated by an agreement that was concluded with the USSR on the eve of its collapse, in 1990.
All stages of dismantling and disposal were carefully traced in accordance with the standards of the Treaty on the Limitation of Conventional Armed Forces in Europe (CFE)
- explained in the NSPA, the NATO Support and Procurement Agency.
In this case, we are talking about the withdrawn from service tanks of the Leopard 1A2 version. These machines were used, for example, in Italy, where they were produced under license at the Oto Melara plant. They were in storage for a long time, since they replaced not only the new generation Ariete C1 MBT, but also the Centauro B1 fire support technique on a wheeled chassis (now the Italians are gradually putting into operation the new Centauro II with a 120-mm cannon, not a 105-mm, as in the basic version)
The Leopard 1 has served in many other NATO armies, including Belgium, the Netherlands, Norway, Denmark, Spain, and of course Germany (the last of these, the Leopard 1A5, was retired in 2003). They are still in operation in Greece and Turkey, as well as in countries as distant as Brazil and Chile. The tanks underwent many upgrades, including the LMS and electronics, and one of the most advanced versions - the Canadian Leopard C2 with additional MEXAS armor - even took part in the Afghan NATO operation.
The Leopard 1 also became the basis for specialized vehicles such as Gepard anti-aircraft systems, Biber self-propelled bridges and Bergepanzer 2 technical support vehicles. They are currently present in several countries of the former Eastern Bloc.
During the dismantling of the last batch of Leopard 1 for scrap, more than 24 tons of iron / steel and non-ferrous metals were recovered from each tank, which were then sold on the world markets. In addition, each vehicle contained hazardous materials: 22 kg of asbestos, spent fuel and oil, and lead batteries.
After deducting labor costs, countries that decided to order the disposal of 483 tanks (including Italy and Germany, but not only), returned a total of 2,7 million euros or 5,5 thousand euros for each tank.