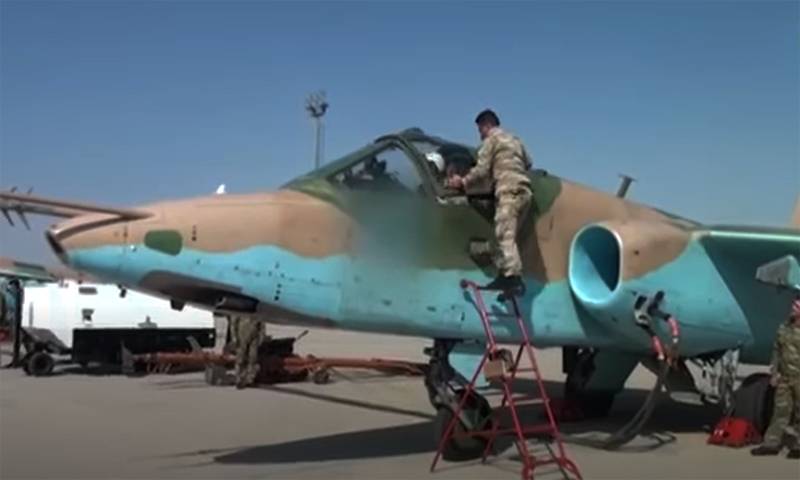 The Azerbaijani side reported on the stage of the operation in the combat zone, during which a manned combat
aviation
.
According to the latest information, we are talking about the Su-25 attack aircraft of the Azerbaijani Air Force. Its use for striking Armenian positions is reported in the summary of the military department of the republic.
As a result of air strikes (with the use of the Su-25 attack aircraft), a large number of enemy manpower was destroyed in trenches and underground shelters.
The report says that the attack aircraft took to the air to strike on October 31.
The footage of the use of the Su-25 is presented.
At the same time, questions arise, why did the Azerbaijani side need to raise an attack aircraft into the air when solving the task of striking enemy manpower? This issue is also relevant due to the fact that the frames show quite open positions of the Armenian side, including traditional trenches and trenches.
Various assumptions are made. One of them is that Azerbaijan "began to value strike drones and high-precision ammunition for them." The cost of high-precision ammunition for the Bayraktar strike UAVs is substantial, so the Azerbaijani Air Force could have decided to use the Su-25 with "conventional" ammunition. Among the assumptions is one related to the relatively large number of drones lost by Azerbaijan by this day, previously acquired from Turkey and Israel.
Another version is related to the identification of relatively well-fortified positions of the troops of the unrecognized Nagorno-Karabakh Republic by reconnaissance, against which (positions of this nature) the UAV weapons are not quite effective.