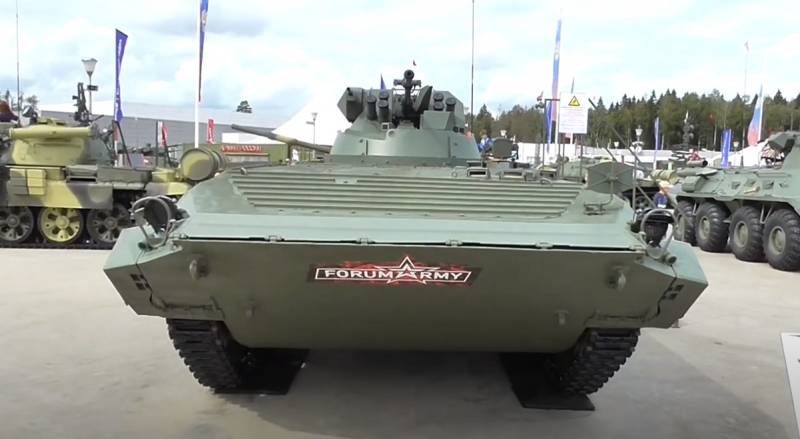 BMP-1AM "Basurmanin" is able to significantly facilitate the modernization of the fleet of Russian armored vehicles, especially if you take into account the amount of costs required to purchase the BMP-3.
Budget replacement of BMP-3
The BMP-1AM was first demonstrated in 2018. At that time, Western experts assumed that the new modification was intended mainly for export, since it could become the basis for the modernization of a significant fleet of BMP-1s held by foreign operators. Since 1966, ChTZ has produced over 20 thousand units of this type of equipment, of which two-thirds were exported.
In 2020, having taken part in a dynamic display of Russian military vehicles, the BMP-1AM once again attracted the attention of the Western press. However, now in the West they are already talking about large deliveries of Basurmanin to the Russian armed forces. As indicated by the publication Army Recognition (USA), now they include up to 1000 BMP-1. Replacing them with BMP-3 would have cost the Russian budget 82-86 billion rubles. In this regard, upgrading the existing BMP-1 fleet to a level is a good option.
BMP-1AM is now on par with BTR-82A and BMP-2 in terms of firepower
- says the publication.
This vehicle received the 30-mm 2A72 cannon instead of the 73-mm 2A28 Thunder gun. "Thunder" no longer meets the modern requirements of fighting NATO military equipment, as it gives the ammunition a low initial velocity and has a low accuracy of fire. In fact, the main modernization consists in installing a new combat module, which does not have ATGMs.
Expert assessment of "Basurmanin"
In this regard, experts criticize such indicators of Basurmanin as protection, mobility and insufficient anti-tank potential. However, it should be borne in mind that the installation of a new power plant, additional armor and new ATGM (instead of the "Baby") will require large investments in the product and will practically devalue the residual value of the BMP-1 base vehicle.
A number of previous "sins" inherited from the BMP-1 may affect the export potential of the BMP-1AM. So, the Indian army, having a large arsenal of old Soviet technology, required, first of all, the installation of a power plant with increased power and adaptation to the new gearbox engine. In principle, this is not a problem and its solution depends only on the customer's desire and his willingness to incur additional financial costs.
For our part, we can note that the BMP-1 modernization program can go through several stages - like
tank
T-72B, which receives the entire set of improvements not all at once, but gradually.